Have you walked into a room recently and just exhaled sharply and wondered why you bother cleaning up? Your floor is a Picasso of pure disarray when it comes to marks, scratches, wear and tear and you only just had a deep hoover yesterday. The culprits; the kids? The dog? Both?
Well, it may be time to figure out something a little less taxing on your time and effort. Maybe a product like Luvanto luxury vinyl flooring is the perfect choice for your plan.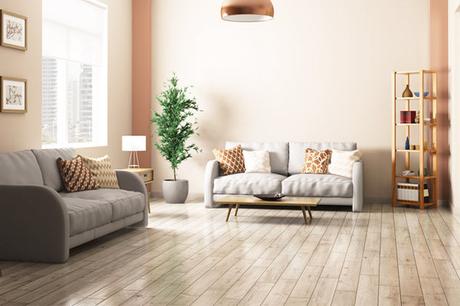 Figuring Out What Works
Top of your plan figuring will always be around cost and the impact on the home's hectic lifestyle. With many flooring options across the marketplace, and many designs available, how do you figure out that vinyl flooring is the best for environment, style and cost?
Depending on which room you are looking to work on, there are different requirements that you have to take into account to better make the decision that vinyl works towards the needs.

Where and Why
With a bathroom or kitchen, you need to take into account that moisture will take into consideration much more than other rooms. High water risk rooms require a specifically manufactured design that is 100% waterproof or at least offers the maximum towards water resistance.
Luvanto luxury vinyl flooring works very well in these environments not just to the waterproof design, but also in its anti-slip technologies and its ability to withstand temperature rises.
Hallways and living rooms have large amounts of foot traffic throughout daily, which requires the product to be highly durable and long-lasting. With these parts of the house connecting through to other highly active areas, they are the main passageways for each family member and usually are focal points for underfloor heating.
Luvanto luxury vinyl flooring is a perfect partner for underfloor heating due to the boards and tiles not rising with temperature, meaning they will not provide risk.
The Major Contributors
Then we come to your children and pets; the major contributor towards floor dirt and chaos, who both provide enough daily onslaught to your floor that it can rapidly become a lost cause in cleaning.
Luvanto and ranges Luvanto Endure Pro offers not just durability for rampant kids and pets but is incredibly simple to clean within a minute, using just warm soapy water and a mop, a quick sweep and a vacuum.
Luvanto
luxury vinyl flooring is a leading brand, perfectly replicating wood and stone flooring with style and satisfaction for decades-long flooring. If your home is chaos, you can reduce your frustration with vinyl flooring as an option.
K Elizabeth xoxox
*Collaborative Post