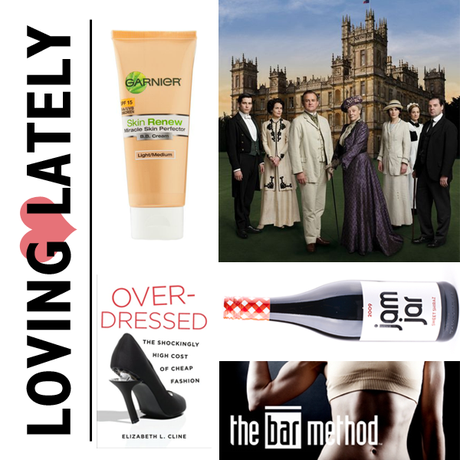 This week has been a hot mess -- literally and figuratively -- but now it's Thursday, it's finally cooling down, and the nice man at Starbucks gave me my iced coffee for free this morning so I'm quite happy about life.
Some other things I've been loving lately:
Garnier B.B. Cream: 
I have no idea how I lived without this -- or any B.B. Cream -- for so long. It makes my skin look flawless and dewy and smells so good! I know I'm constantly raving about my drugstore beauty finds (and calling everything my favorite) but this stuff is legit. It really is a miracle worker. 
Overdressed: 
I've read so many phenomenal books already this summer -- including Wild and
Bloom
-- and now I'm working my way through Overdressed. It's all about the high cost of cheap fashion and how we're buying -- and wasting -- more clothing than ever ... and how it's all crap. It's fascinating and has made me look at my closet -- and my shopping habits -- in a whole new way. 
The Bar Method: 
I've mentioned it before but I'm obsessed with The Bar Method. So obsessed that I've been waking up at 5:30 a.m. on most weekdays to squeeze in a run and a class before work. I've been six times in the past week and I already see some definition in my abs (YES!!!). It's a beautiful space, everyone is so nice, and class just flies by! Plus, it totally works.
Jam Jar: 
To be fair,
I've loved this forever (aka as 2 years) but it's been especially amazing in the heat wave. I'm not a red wine person but this Sweet Shiraz -- which you chill (that's key!) -- is so sweet and wonderful that I choose it over dessert (crazy, right?!). Oh and it's only $10. 
Downton Abbey: 
I know I'm so late on this but OMG amazing. My favorite post-work activity is pouring a class of Jam Jar, locking myself in my air conditioned bedroom with Jack, and laying on our bed watching episode after episode on the computer (which we have temporarily moved from our oven-of-an-office into the bedroom).