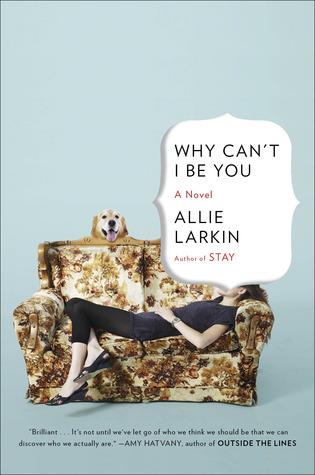 Synopsis by Goodreads.com:
At one time or another, everyone has wished she could be someone else. Exploring this universal longing, Allie Larkin follows up the success of her debut novel, Stay, with a moving portrait of friendship and identity.
When Jenny Shaw hears someone shout "Jessie!" across a hotel lobby, she impulsively answers. All her life, Jenny has toed the line, but something propels her to seize the opportunity to become Jessie Morgan, a woman to whom she bears an uncanny resemblance. Lonely in her own life, Jenny is embraced by Jessie's warm circle of friends—and finds unexpected romance. But when she delves into Jessie's past, Jenny discovers a secret that spurs her to take another leap into the unknown.
My review:
When I read on Twitter that Allie Larkin was working on a new book, I was so excited! After reading "Stay", I couldn't wait for the new book to hit the shelves (or in my case, the eReader).
After reading the heavy & suspenseful "Gone Girl" and being rather disappointed in Ellen Degeneres' bio book, "Seriously … I'm Kidding," I really, really needed a good book to get me feeling good again! WCIBY certainly did just that. Once I got into it, I couldn't put it down. I read chapter after chapter trying to guess when Jenny was going to spill the beans on her true identity, whether or not she'd tell her mom where to go, and who exactly Jessie Morgan really is.
The only thing that made me scratch my head was the "building a house in the woods" mention. Considering the story takes place in Seattle, and Grey's Anatomy is also set in Seattle … and McDreamy also built a house in the woods … Coincidence? Intentional? Who knows. Either way, WCIBY is easy to read and a wonderful "chick-lit" book. Really, it's a wonderful second book by Allie Larkin.
I give Why Can't I Be You 5 out of 5 stars! Seriously, there wasn't anything I found wrong with it.