I don't claim to be a super healthy eater, a gourmet DIY at-home cook, or anything special. I'm just a regular wife & mom cooking for her family. So, with that, I thought I'd share what I'm hoarding in my fridge.
Main section: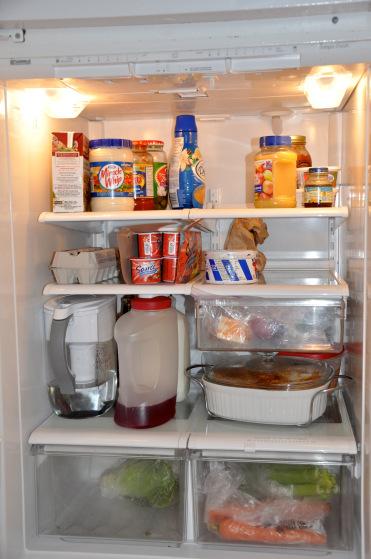 Top shelf: Chicken stock, Miracle Whip, Ragu Original pasta sauce (used as pizza sauce!), spicy pickled beans, garlic stuffed green olives, pickles (extra garlic), International Delight French Vanilla coffee cream, unsweetened apple sauce (for Isla's lunches), antipasto, Philadelphia light Garden Vegetable cream cheese, sour cream, Gerber apple & prune juice (for Isla).
Middle shelf: Large eggs, feta cheese, Source Superfruit yogurt, Laughing Cow cheese, old bag of mushrooms that probably needs to be thrown out.
Middle drawer: Marble cheese, 1/2 a red onion, turkey deli meat, cucumber (also probably needs to be thrown out), pizza meat variety pack.
Bottom shelf: Brita water filter, milk, juice, beer (Sleeman's – left here by a friend), leftover macaroni & cheese, leftover homemade chicken soup, bacon.
Crispers: Green leaf lettuce, celery, carrots
Door: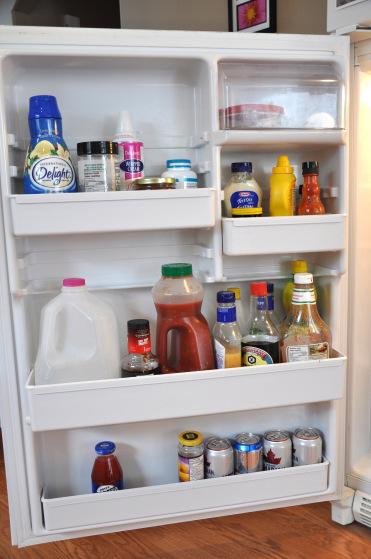 Top right mini-shelf: Parmesan cheese herb mixture, a hard-boiled egg
Second right mini-shelf: Kraft tarter sauce, Dry active yeast (expired, so I guess it's not very active anymore), French's mustard, Frank's Red Hot sauce, dijon mustard, take-out packets of soy sauce because I hoard them
Top left shelf: More International Delight French Vanilla coffee cream, Kraft real shredded parmesan cheese (SO must tastier than the dry stuff!), whipped cream, homemade (store-bought) strawberry jam, acidophilus
First big shelf: Milk, Bullseye Original Bold BBQ sauce, salsa, Golden Italian salad dressing, China Lily soy sauce, Kikkoman soy sauce (yes, 2 kinds of soy sauce – I like Kikkoman, Kyle likes China Lily. There is no compromise), Real Lemon juice, ketchup
Bottom shelf: Mott's Clamato juice, plum sauce, more beer (again – left here by friends/family)
So there you go! My fridge always has something to munch on!
What's in YOUR fridge?