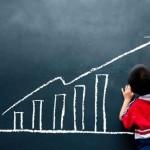 It was 8.30 am in 2002 on a Monday morning in Shanghai.
I was excited for a tech meeting we were about
to have.
Every Monday we all members got to share our last
weeks achievements. Scott from sales told me
that he got a new account with a hotel ( I think
it was Sheraton ) for our IT development services.
I thought this was great for our company.
However my views were not shared by our manager who was
expecting another two accounts the week  before.
I felt sorry for the sales team.
I then learn a very valuable lesson that week.
Making your expectations clear  and having clear
steps to achieve these goals is very important.
This lesson came back to be when I was reading
Fabien's ( founder of openerp) post about the release of
openerp 7. He quotes him self saying
""it's not good enough, we should grow
faster, what am I missing?""
and I thought I should share my opinion.
Chains of Steel.
At my second job I got the chance to work with some great
minds who were colleges of Lakshmi Mittal.
For those of  you who don't know of him, he is one of the
richest men on the planet and is in the steel industry.
Not in a high growth industry like IT.
The key to his growth was he could take sick steel
companies and make them profitable which made him rich.
The key is the VALUE he brought in by making old steel
companies profitable.
I feel giving high value to an end customer
will help openerp grow faster.
Any company who is about to implement erp needs only
3 things to work well.
A) The implementation should be simple and fast.
B) The erp should be effective as per business needs.
C) Users should use it.
I feel openerp does a good job on point C. I am
surprised the new version's efforts are focused on
user experience.
The main problem I have seen is that the implementation
and effectiveness of the platform has to be improved.
Some facts for you to check.
1) Bugs in crm module. The email does not really work.
2) Delivery module zip codes don't work.
3) Reports don't support pie and gantt charts.
You need to use jasper or other tools to get full report
functionality. Plus development time is faster in jasper.
4) Lack  of vertical  modules for  the softline industry.
These are far  more important over any ui improvements for now.
All the best
Vishal