Last weekend I participated in the Artisan Cheese Festival, held annually in Petaluma every March.  This year marked it's 11th year of celebration of all things Cheese!
Things kicked off Friday morning, March 24th with various Farm Tours throughout Sonoma County and Marin and one Capitol Tour that took cheese lovers up to the Sacramento Valley to explore farms such as Pedrozo Dairy, that is getting really well known for their Black Butte Reserve and Northern Gold cheeses, and Orland Farmstead Creamery!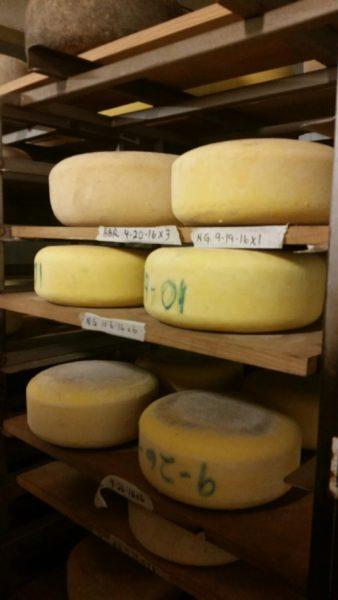 Cheese at Pedrozo Dairy in Orland, California
For those that weren't able to join in on the tours during the day, official things kicked off Friday night at the Artisan Cheese Festival with the Ultimate Best Bite competition where cheese companies throughout California would pair up with a TOP Chef or Cheesemonger in the area to CREATE the Ultimate Best Bite.  For the cost of $75 dollars, guests walked around various booths throughout the 3 hour period getting inspired in new ways of utilizing some fantastic cheeses, and enjoying the Chef's creations.  Guests were encouraged to vote for their favorite Cheesemonger and Chef creation by texting in their votes, and local judges  were asked to vote for their favorites, as well!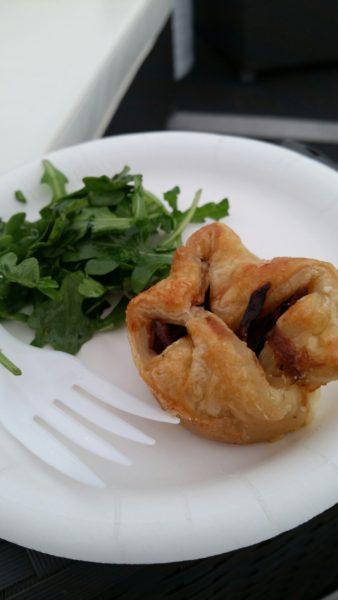 A Bite at the Ultimate Best Bite Competition Friday Night
The Judges' Panel awarded first place to Devorah Harris of Oliver's Market in Cotati for her Best Bite using Capra Stanislaus from Nicolau Farms. Second place was awarded to Christina Strategos of Nugget Market in Woodland using Boont Corners from Pennyroyal Farm, and third place went to Jan Barrett of Oliver's Market, Montecito Store in Santa Rosa, using Classico by Tumalo Farms from Vintage Cheese Company.
The People's Choice Cheesemonger went to Sara Payne of Whole Foods Market in Napa, using Assa from Tomales Farmstead Creamery, and People's Choice Chef was Eli Anderson of Local Dish of Eastside Petaluma and Santa Rosa Community farmers markets for A Taste of Spring, using Chevoo Dill Pollen and Garlic Fresh Goat Cheese.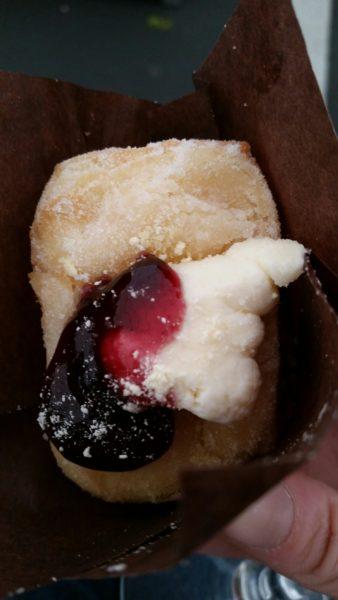 The John Ash & Co Doughnut
Some of my favorites that evening included Nick's Cove Restaurant with the utilization of Marin French Petite Breakfast Cheese Arinchini served with a Chipotle  Aioli.  I also LOVED John Ash & Co Cheese and Jam Filled Doughnut that was filled with Face Rock Creamery Apricot Honey Fromage Blanc and Housemade Blackberry Jam and Grana Wood Fire Foods with their Hazelnut French Macaron.  Those two creations alone inspired me to begin playing around with Fromage Blanc in an entirely new way!
Festivities continued Saturday with a variety of educational seminars and demos throughout the day at the Sheraton Petaluma (745 Baywood Drive) where cheese lovers could sit in on and learn more about cheese and various pairing techniques along with learning the history of California Cheese.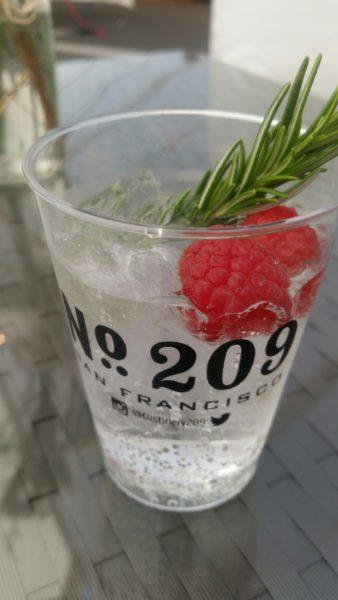 And then Saturday evening, an entirely new event took place for cheese lovers with the first annual "Cheese and Cocktails event."  The California Cheesemakers would have their cheeses laid out (Cypress Grove Creme Brulee'd their Humboldt Fog!), while local spirits and distilleries within the area came out to create specialty cocktails with their craft spirits (Places such as St. Georges Spirits, Spirit Works Distillery and No. 209 were present!)  Guests could walk around to find their favorite pairings throughout the evening.  Cost to attend this event was just $40 dollars.
Also Saturday evening, 2 CheeseMaker Dinners took place at two off site locations in Sonoma County: The first taking place at Park 121 at Cornerstone Sonoma. The menu crafted by Chef Bruce Riezenman features a different artisan cheesemaker's cheese in each course. The second taking place at Suite D: Sondra Bernstein, chef and owner of the girl & the fig restaurant has long been an advocate and supporter of the California artisan cheese scene, so it seemed fitting for us to visit her newest event location – Suite D. Both dinners cost $150 dollars, but walked you through a specially designed menu with each course paired with a local, artisan cheese.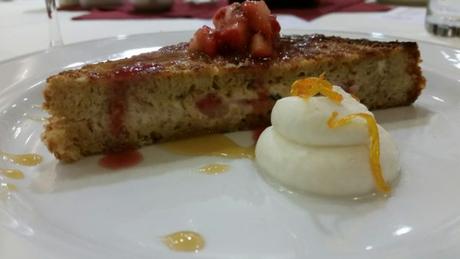 Stuffed French Toast at Bubbles and Brunch Sunday Morning
The festivities continued Sunday, starting out with Bubbles and Brunch ($115) where the Cheese Twins: Charlie and Michael Kalish, experts in cheese, demonstrated their brunch menu while guests got to enjoy the food in front of them.  Entry to this event also allowed VIP entrance to the Marketplace an hour earlier than the general public.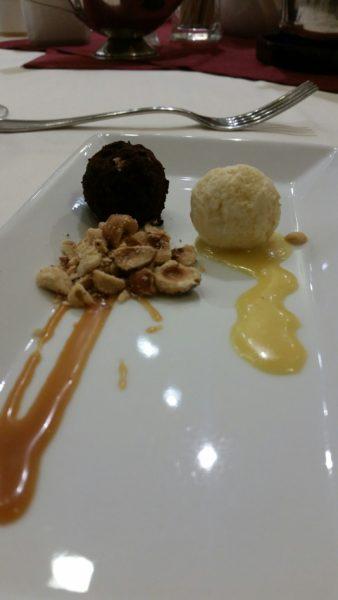 Cheese Truffles at Bubbles and Brunch Sunday Morning
And then, festivities really took off at the Artisan Cheese Marketplace ($40) from 12pm to 4pm on Sunday where Cheese lovers COULD finally purchase the cheese and products they fell in love with over the weekend, and let me tell you, the cheesemakers offered GREAT prices during the marketplace as low as 5 Dollars a Slice! At entrance, you received a bag that could keep your cheeses cold so you could really stock up on your favorites in the marketplace! Various winemakers and cidermakers were also on hand pouring their wines and ciders.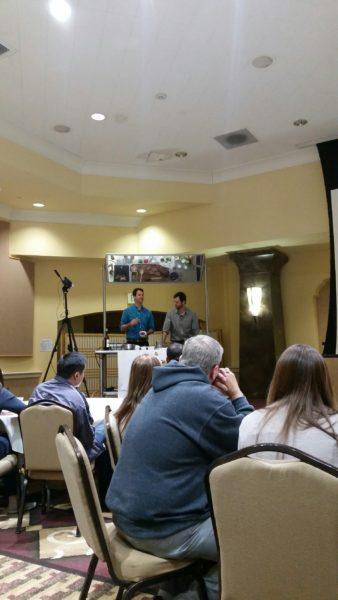 Grilled Cheese Demo by the Cheese Twins Charlie and Michael Kalish
During the Marketplace, demos continued where people could sign up for free: Learn more about Grilled Cheese from the Cheese Twins, How to Make Butter, and more.
Overall, it was an incredible weekend for Cheese Lovers, and an event to put on your list for 2018!  Tickets will go on sale January 1, 2018, and be sure to book the farm tours EARLY as they are the first to SELL OUT every year!