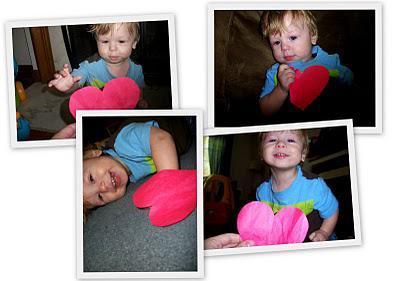 Today is Mother's Day. It is also the first day of Williams Syndrome Awareness week. If you would have asked me last year what Williams syndrome (WS) was, I would have had no idea. Oh, how things change. 
On February 11, 2011, my sweet Bean was diagnosed with WS, a rare genetic condition affecting 20-30,000 Americans. Most people don't know anything it so I am making a personal effort this week to help raise awareness. I am planning a daily post on the various characteristics associated with WS and an insider perspective on the ways families and individuals are affected.
WS is marked by a sporadic (random) microdeletion of approximately 21 genes on chromosome 7. That's a teeny-tiny 21 genes out of approximately 20-25,000 that make up a person's genetic code. One of the deleted genes is called elastin and is related to cardiovascular disease. Most individuals affected by WS have a congenital heart defect and the most common defects are pulmonic artery stenosis (narrowing of the arteries leading from the heart to the lungs) and supravalvular aortic stenosis (SVAS) (narrowing of the aortic valve). People with WS are also known to have high blood pressure.
Many, many families learn early on that their child has WS because their child has a serious heart condition,  leading to genetic testing. Pulmonic artery stenosis typically resolves on its own over time. SVAS can range from mild to severe to life threatening and often requires surgery. 
Bean has pulmonic artery stenosis and SVAS. Fortunately, in his case, both are considered "mild." He also has slightly elevated blood pressure. He needs to see a cardiologist annually for an ECG and an ECHO and bi-annually for 2-arm blood pressure checks. He does not need surgery at this time, thank goodness. 
While Bean (and many others with WS) has a delicate heart, he also has a gentle heart and endearing personality. Individuals with WS have unique and charming personalities. That will be the subject of my post tomorrow. Please follow along to learn more about my little sweetheart and others like him.
--------------------------------
Our family is very fortunate that Bean is relatively heart healthy. Other families have faced more challenging circumstances. The author of this blog and caring bridge page is another WS mom and blog friend of mine. Her son, Corbin, has spent most of his life in the hospital with heart troubles. She has strength, courage and grace and Corbin is one strong little dude. Please read her story and send her prayers, thoughts, good vibes - whatever it is you do, please do it for this wonderful family.
--------------------------------
The best source of information on WS is the Williams Syndrome Association. They do a great job of supporting families and professionals treating people with WS. Please visit their site to learn more.