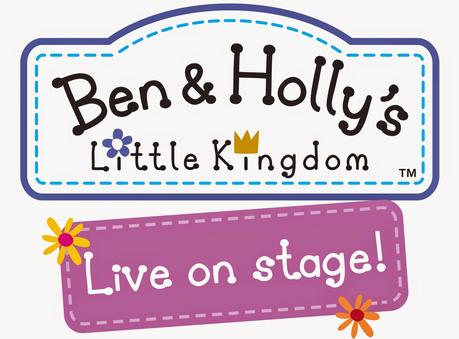 The hugely popular Ben & Holly's Little Kingdom theater production takes to the road again for a second UK & Ireland tour this year. 
A BAFTA award-winning TV animation, Ben & Holly's Little Kingdom comes from the makers of Peppa Pig and was produced for the stage by top children's theater producers Fiery Light Productions whose growing stable of work - which includes the stage adaptions of Peppa Pig and Octonauts - has now been seen by millions of children across the UK over recent years. 
This stage version toured 2012 - 2013 and now returns for a 45-theatre engagement, opening at The Orchard Theatre, Dartford on 26 March. 
Currently a top favorite show for pre-schoolers, this charmingly magical animation airs on Nick Jr and on 5's Milkshake. Ben and Holly's Little Kingdom is co-owned by animation studio Astley Baker Davies (crea-tors of Peppa Pig) and has been a hit with audiences and critics alike. The series won a BAFTA award for Best Pre-School Animation in 2009 and a British Animation Award for Best Pre-School Series in 2012.
The Little Kingdom – where everyone is very, very small – is home to Princess Holly and her best friend Ben Elf. Holly is a young fairy princess who is still learning how to do magic properly and sometimes her spells don't work out quite right. Ben is an Elf. Elves don't do magic but they are very good at making things. Ben doesn't have wings like Holly but he flies on the back of Gaston the Ladybird.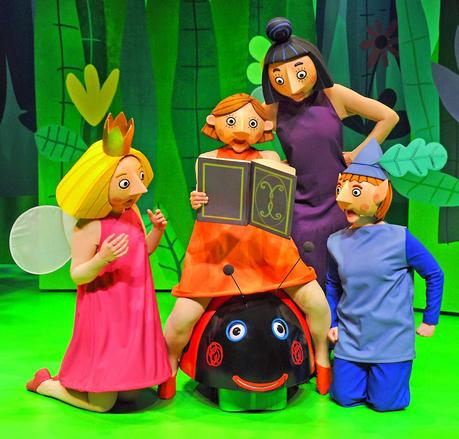 In this exciting new musical adventure, Ben and Holly have fun and games helping Gaston clean up his messy cave; they go on a trip to The Big World with tooth-fairy Nanny Plum; and still have time to plan a surprise for King Elf's birthday party, complete with an unplanned jelly flood.
Packed full of games, songs and laughter, this is an enchanting and magical visit to the Little Kingdom, live on stage for the very first time. This beautiful story of elves, princesses and childhood innocence will delight all the family.
Richard Lewis, who has adapted the TV animation for the stage and also directs, said, "We knew from the early screenings of Ben & Holly's Little Kingdom that the TV animation was destined to become a children's classic and would translate well to the stage. The magical world of the Little Kingdom is a safe place for young children to learn about family values, respect, loyalty and most importantly how to have fun.
We're delighted that following the very successful first tour of the stage show we can respond to demand and bring it back to UK and Ireland audiences for a second time. We hope that once again it will be a magical experience for all Ben & Holly fans, both young and old".
Director and adaptor Richard Lewis also adapted and directed the three highly popular Peppa Pig theater tours (Peppa Pig's Party 2009 – 2011; Peppa Pig's Treasure Hunt 2011 – 2012; and Peppa Pig's Big Splash 2013 - 2105) and the current tour of Octonauts and the Deep Sea Volcano Adventure 2014 - 2015.
Original music is by Mani Svavarsson, original lyrics by Matt Lewis, set design is by Simon Scullion, light-ing design is by Matt Haskins and sound design by Ian Horrocks-Taylor.
The actors will wear masks in this production, created by Russell Dean, Artistic Director of Strangeface Theatre Company. Russell worked for a number of years with the award-winning Trestle Theatre Company as their designer and mask-maker.
For more details or to book, please visit www.benandhollylive.com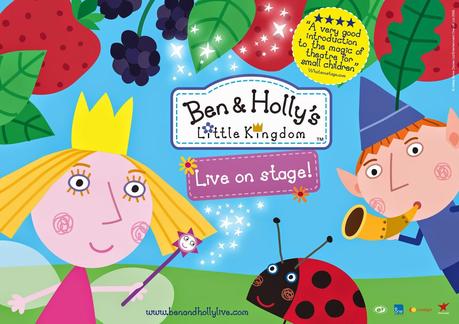 Competition!


To Be with a chance of winning 1 of 2 sets of Family Tickets to see Ben & Holly Live, just answer the question below and leave your contact email address or Twitter name!
Q) What is the name of the tooth fairy in Ben & Holly's Little Kingdom?
A) Nanny Banana B) Nanny Plum C) Nanny Nectarine
Terms & Conditions
A family ticket is for four people, minimum one adult. The tickets are non-transferable. There are no cash alternatives. Accommodation or travel are not included in this prize.
If you enjoy my blog, please consider following me on Bloglovin'    Win competitions at ThePrizeFinder.com - See more at: http://www.theprizefinder.com/content/family-ticket-ben-holly-live#sthash.Q4yahdn7.dpuf