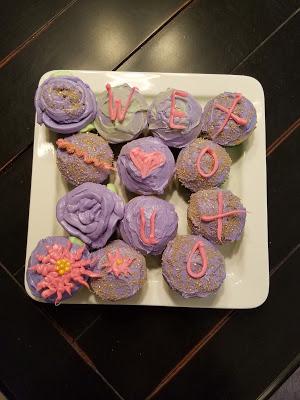 Truly, I am spoiled every day by my B's - they give me more joy than I ever imagined feeling in my lifetime. On this Mother's Day, they really went the extra mile and made me feel so loved and special, I am humbled with love and gratitude for them. I may be the Queen B of the 4 B's, but they are the reason I live and breathe, and yesterday was a fun, loving, relaxing, perfect Mother's Day. It was a celebration of love, and best of all, I didn't have to cook or clean stalls! Brady and I had a long day of work on Saturday, and we let Brailey and Britt stay home by themselves. It is hard to believe they are old enough to take care of themselves. I came home to these beautiful cupcakes, made by Brailey. She went above and beyond to make sure my Mother's Day was special! Below, they made me the most darling handmade cards ever. I will treasure them forever!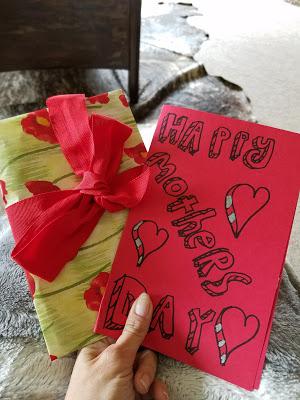 After I opened their gifts, we went to our favorite restaurant, Texas Roadhouse. On the way there, they all participated in my car selfies. We struck a few poses. You can get away with this kind of stuff on Mother's Day! Also, the talented Brailey Shaye did my makeup, which is why it actually looks decent, for once. She is an artist, through and through. It is always a treat to have her do my makeup. She's already a pro!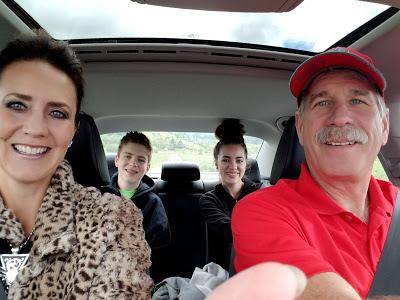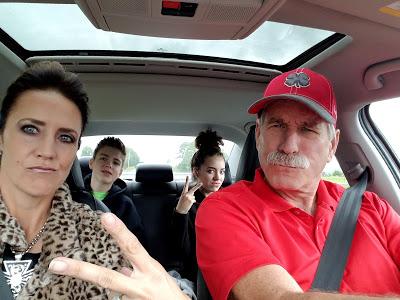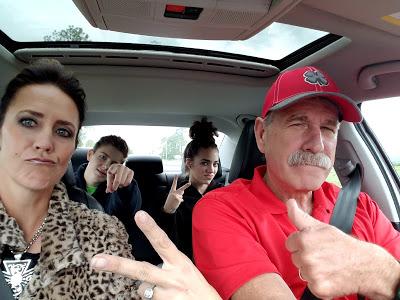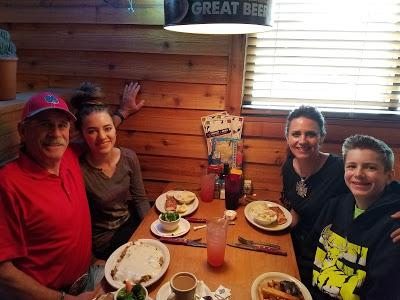 The food at Texas Roadhouse in Eugene is seriously to die for! It is so good it melts in your mouth! Brailey and I always get the salmon, and it is incredibly delicious. Britt has a new spring contraption on his braces in his mouth, and it has made his teeth super sore, so he wasn't able to enjoy his steak like he normally would. Thankfully, they had delicious bread and french fries to supplement.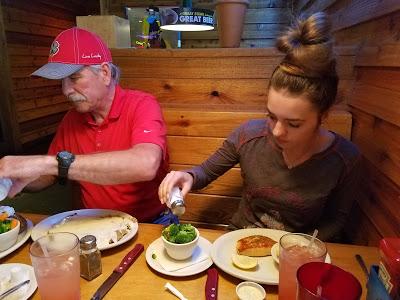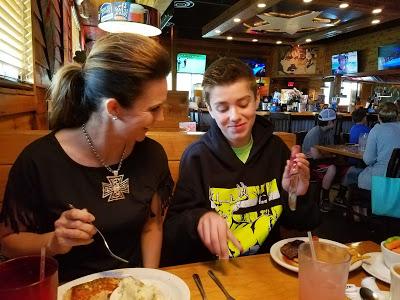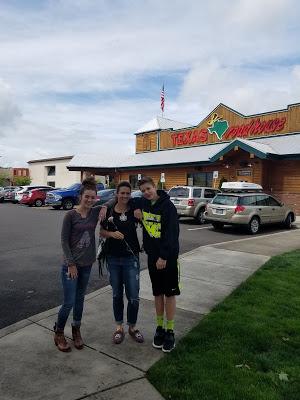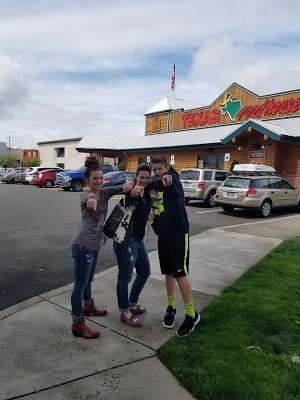 After we got home, we tried to take a fun picture on the fence stairs, but they didn't turn out too well. But Brady got this fun shot of Britt trying to carry me. So funny! They don't call me Big Mama for nothin'. He said, "I'll carry you to the door, Mom!" And then I broke his back. Hahaha! What can we say? I wintered really well, and this trend has continued on into spring. My metabolism is not working too well, these days, but that's a story for another day. Lucky for me, my family loves me, curves and all!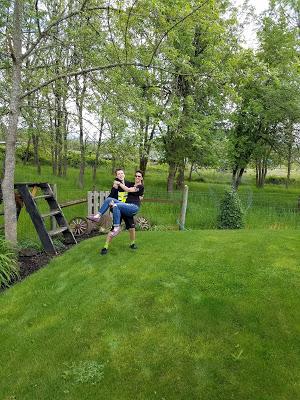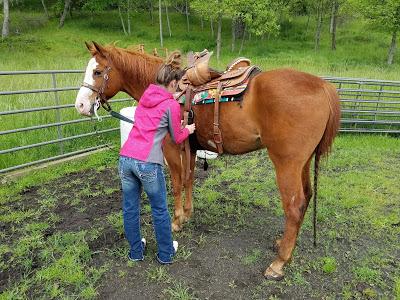 After our delicious lunch, Brailey got to ride Alvin around and swing her rope on him and Brady exercised Mater a bit. Mater has been recovering from some issues with his front feet. He looked great, so that was a relief to see. He appears to be all healed up. One thing is for sure - he is full of energy!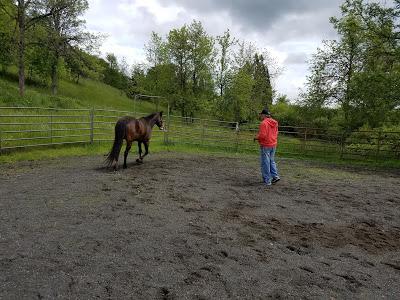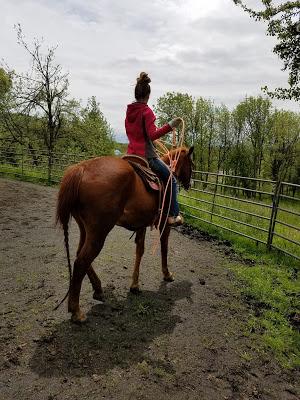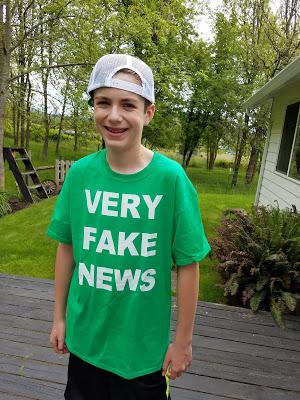 My little Republican boy and I in our matching shirts. I howled with laughter the first time I saw this shirt, because I saw the press conference where it was said, and frankly, it is the truth! Of course we don't wear these around town, but at least we can express our freedom of speech at home. And in "very real news," how can Britt be so much taller than me?!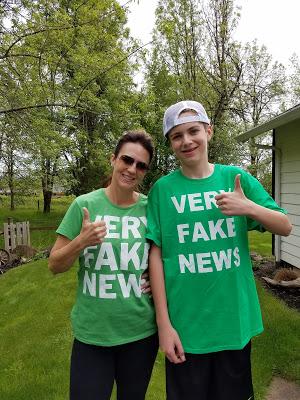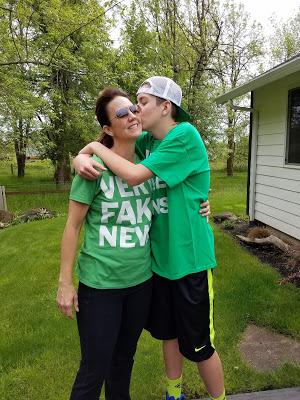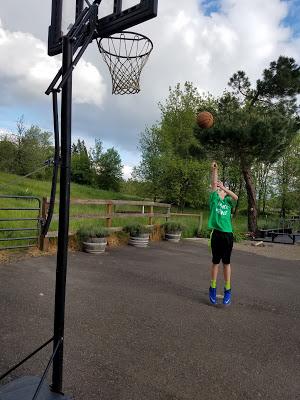 While Brady and Brailey were up on the hill with the horses, Britt was shooting hoops. He spends most of his free time shooting baskets and working on his post moves.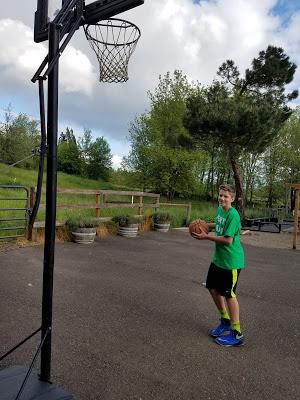 We had planned to go back into town to watch a movie, but we decided to stay home instead, and we watched The Magnificent Seven in the comfort of our home. It was a great movie! Afterwards, Brady and I went out to the world famous Golf Pad and he helped me get my golf swing together. My swing took a hike and left me for a while. Golf is so dang hard! I love it, but I also hate it. My three B's are so natural and good at it, and then there's me. But I was hitting well by the time we were done, and I am grateful Brady never gives up on me. He is ready to hit the golf course, but the weather has not been cooperating. Hopefully things will begin to dry up and the sun will come out to stay for a spell.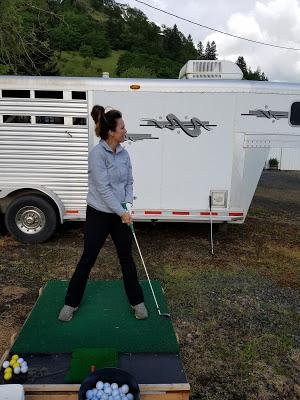 This painting is one of my precious gifts. Brailey painted this in one day, on Saturday! I can't believe how talented she is. This is a picture of ME! She painted it from a picture we have of me running barrels on Herman. This was at a rodeo in Canyonville back in the 90's. I loved this horse so much and will never forget this run. When I called on Saturday to check on Brailey and Britt, Britt would say she was working on her homework. I thought, "Man, I didn't think she had so much homework!" But really, she was painting this beautiful picture, which is more special than words can ever describe. I know I brag on my family and especially my kids too much, but they are seriously thoughtful and amazing people, and I am so lucky to be a part of their lives. They went above and beyond to make me feel loved on this Mother's Day, and I am brought to tears with gratitude for their love. I am the luckiest mom and wife in the world!