Whoops! This was meant to be posted on 14th but…ehhhh, due to some shenanigans in my house last week everything has been delayed by a few days. But at least I'm posting, right?

So, for those who don't know, the WIPocalypse is an ongoing stitchalong event hosted by the charming Measi of Measi's Musings. As its title suggests, it's all about WIPs and making progress on them! And as per Measi's rules I will now post the list of WIPs that I currently want to tackle:
Phantasy Star II Nei
Phantasy Star IV Rika intro shot
The Elder Scrolls: Arena (section from the intro)
Dissidia Prishe
I'm hoping to complete all of these fairly soon, and may add more to my list as I progress through the year.


We may also post each month about a topic set by Measi, and February's topic is "How many projects do you generally feel comfortable having in progress at a time?  Tell us about your one-at-a-time or rotation habits!"
My answer is that I have no upper limit for projects! Or at least, I haven't reached it yet. I like to have many projects on the go so that if I get a little bored of looking at one, I can change to another for a little while. That way, I'm still interested in the projects and make progress on more than one!
Sooooo…I haven't exactly made any progress on these projects yet, because I was finishing off the Empress Card I posted about previously. I would have had this in the WIP list had I remembered to post about it a LOT earlier than now, but no matter because it is finished!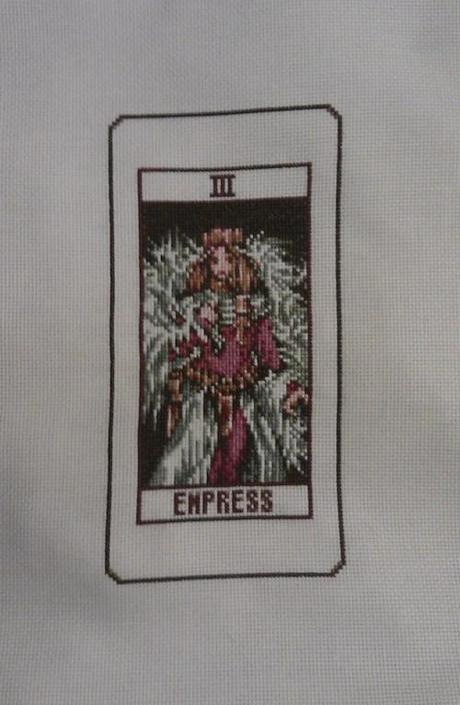 She just needs to finish drying and then I can frame her! I really enjoy these tarot cards from Ogre Battle, they are such nice images to work from.

Join in with the WIPocalypse by bashing the button on the sidebar! More WIPs next full moon – around March 16th. Toodles!