So, it's June already in case you didn't know. How the heck did that happen? I swear it was just the first snowfall and I was trying desperately to find two mittens that matched for each of the kids five minutes before school.  I have a theory that the people in charge of time are speeding things up.
They
are giving us less minutes in the day. 
They
didn't think we'd notice.  I'm keeping an eye on it.
June is a busy month at the seniors condo. Everyone is back from the south and have not yet left for the lake. Consequently, there are lots of people out in the common area by my office.  They stop in and have conversations with me and with one another outside my door. 
As I've noted,
Seniors
are funny people.  They don't mean to be funny, but they are.  I am fully aware that I, too, will be in the same boat as these very seniors who I like to poke a little fun at.  If you are a senior in my building, and you have somehow found my secret blog, this is not about you.  This is about some other seniors that I, er, volunteer with...in another condo...yeah, that's it.
Seniors, I've noted, are soo polite.  They'll always stop to talk when they see each other.  Often, there is not a lot to talk about, as in the conversation I heard the other day:
"Fred, I thought I just saw you drive away."
"WHAT?"
"I said, I thought I just saw you drive out of here."
"No, I just came in."
"Oh, did you come in through the underground parkade?"
"No, I came in through the parking lot and right here through the front doors."
"Oh, okay, well see ya."
"Yep, see ya."
 Sometimes, there is advice given:
 "Are you waiting for a cab too?
"WHAT?"
"ARE YOU WAITING FOR A CAB TOO?"
"Oh yeah, I have to go for physio for my hip."
"I think it's late."
"WHAT?"
"MY CAB, I THINK IT'S LATE!  I THINK YOU SHOULD GET HEARING AIDS INSTEAD OF PHYSIO!"
"I did get hearing aids."
"Then why don't you wear them??"
"I am wearing them."
There are those residents who are 'real characters'.  I love them to bits, they make me laugh.  I don't think they really intend to make me laugh but talking to them gives me no end of amusement and of course, there are lessons to be learned: 
"Stacy, I got a new phone and I don't like it. It's too complicated. "
"Me: Why don't you call SaskTel? They'll send you a different one."
"Can you call them for me? I don't talk on the phone. I can't hear."
Lesson: If you're deaf, don't get a complicated phone.
There was a bit of an incident lately and some items seemed to go missing. I don't know how, everything is locked up there, even the dishsoap.  It's like Fort Knox with seniors instead of the handsome soldiers. One resident had some theories...and other thoughts...:
"You never know with people. It's probably someone's grandkids.  Kids are on all kinds of drugs to the Nine Yards nowadays.  People are funny, but you know, that's what makes the world go around.  I like watching the stories about the scam artists.  I was watching about what's his name the other night.  The knight that was from Canada and then he went into the States...."
Me: "Conrad Black?"
"Ya, Black. He was being interview by what's his name, the news guy on CBC..."
Me: "Peter Mansbridge?"
"Ya, Peter Mansbridge. You know, that Mansbridge he should retire and give someone else a job. Those guys, they get that job and they stay there til they're almost dead. That's why I say, Don't go into broadcasting..."
Lesson: Your kids might be on drugs to the Nine Yards.  I don't know what that means but check them to be safe. Do Not go into broadcasting! You'll end up almost dead just like Mansbridge. 
Technology is always an amusing subject:
"How do I get the internet, dear?"
Me: "You have to call the cable company; Shaw or whoever you like."
"No, I have that. How do I get this free connection?"
Me: "Ummm, you mean the public wi-fi? You just need to enter the password. Do you have a laptop or an Ipad?" 
"No, I don't have an Ipad. I have something better than an Ipad.  I can't remember what it's called now...oh ya, I have what's called a tablet, it's something tops. It's the top of the line. My computer guy told me about it"
Lesson:  Avoid the Ipad, get a tablet instead.  They are tops. 
I play a few old time country tunes for the seniors from time to time.  They are really appreciative and they love to talk to me about their musical experience:
"Cindy, I heard that you play the guitar."
"Yeah, I play a little bit, I guess."
"I got a guitar a long time ago.  I hardly even took it out of the case. It came with a set of instructions, but I lost them, so I never learned to play."
Lesson: When you get your guitar, put the instructions in the same place you put the instructions for your toaster oven and your DVD player so you always know where to find them.
Cherish a senior today!  For the most part, they are pretty awesome!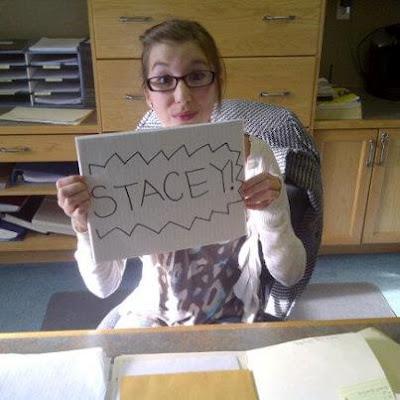 Jordana at my desk being a goof on Take your Kid to Work Day.