Most of you have probably heard of the 'Freshman 15' and for those that haven't it basically boils down to students putting on 15 pounds in their first year of University. Well, much is the same for the first year of marriage! In fact, the single instigator of my weight gain is
my wife
! Allow me to elaborate.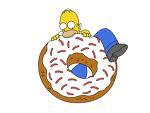 We walk past a doughnut shop and the joy and excitement that lights up my miniature wife's face resembles that of a toddler. She turns to me and asks to get one and I, trying to maintain a diet, politely decline.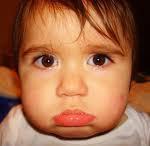 As a result, I'm met with a pout and the wife too decides against getting one. Eventually, I end up having a doughnut.
Now that we BOTH resemble Teletubbies, we decided to begin an exercise regime and started by buying a pair of running shoes. A few days later, we donned our sporty sneakers and ventured to the park. A two mile walk would be a great way to start our weight loss program or at least so I thought. A half mile in to the walk Mrs. Bhojwani spots a white van and the toddler like joy is back. She turns me to and asks the inevitable question,
'Can we get one?'
I decline and stand firm however, Mrs. B makes a bee-line straight for the ice cream van and gets herself an ice cream.

So now, I'm speed walking through the park while the wife ambles along at a leisurely pace as she indulges in a lolly. At the end of it, she turns to me and complains.
'I'm so fat!'
*sigh*
Marriage Tip 20:
Your biggest calorie intake is, your wife!
Welcome to my chubby married life!