Minister of State (I/C) for Youth Affairs and Sports Col. Rajyavardhan Rathore felicitates medal winners of World Archery Youth Championships. The Indian teams win 1 Gold, 1 Silver, and 1 Bronze medal at Rosario, Argentina. The Championship concludes recently on October 8, starting October 2, 2017. Since Col. Rathore himself belongs to the same sports and is an Olympic winner, he had a number of inquiries about our teams, coaches, and overall performance in the championships. The most important part is appropriate training to all deserving candidates. In international sports, India is breaking barriers and showcasing its talent in all kind of sports. Jemson Singh Ningthoujam, 20, and Ankita Bhakat, 19, grab the mixed team gold medal in Rosario. It is, in fact, India's first world title at the youth championships. Prior to this Deepika Kumari had victories in 209 and 2011. India beat Russia in the final.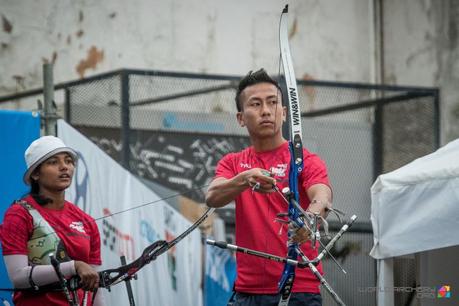 Source: worldarchery.org
Ankita has 94 global ranking while Jemson is yet to get a place on ranking table. It is a remarkable performance by the Indian pair at World Archery Youth Championships. The overall seeding of the pair in the tournament was 9. After winning the title, Ankita says, "I was initially feeling a little shaky but I shot very well and we won the gold. Now I'm happy." On the other hand Ningthoujam had an interesting version to state. He says, "Our coach tried to encourage us both; he was shouting 'we have to win', 'we have to win', 'we have to win'," he adds, "The hard work has paid off and now we'll hear our national anthem."
World Archery Youth Championships 2017 At Rosario
World Archery Championships Campo Marte and Zocalo, Mexico City
India wins Silver medal in Junior Men Recurve Team at the World Archery Youth Championships. The three member team includes Jemson Singh Ningthoujam, Atul Verma, and Sukhmani Gajanan Babrekar. The Bronze medal comes in Cadet Compound Junior Women Event comprising of Khushboo Dhyala, Sanchita Tiwary, and Divya Dhayal. Overall, India was at 7th place in the medal tally at the Championships. In fact, Ningthoujam is the most successful athlete from India grabbing two team medals. Two women from the past need a special mention here. Firstly, it is Deepika Kumari who has two prestigious titles in her pocket. Those are the recurve cadet title in 2009 and recurve junior crown in 2011. Secondly it is Palton Hansda, who was the first Indian archer in 2006 to become world champion. She had gold in the compound junior women's event.