Protesters and riot police are clashing for a second day in Istanbul, after Friday's demonstrations injured 1,000 people
, according to a Turkish doctors' association, apparently intensifying the already deep outrage against Prime Minister Recep Tayyip Erdogan's government.The protests started over the government's plan to turn a park into a mall but have since,
according to the New York Times
, "become a broad rebuke to the 10-year leadership of Mr. Erdogan and his Islamist-rooted Justice and Development Party, which the protesters say has adopted authoritarian tactics."Seda Erdam, a U.K.-based Turkish health researcher, explained the protests against Erdogan succinctly on Twitter: "Turks elected this government to get rid of military influence, thus for more democracy. People are disappointed now."The harsh police response to the protests, as displayed clearly in the  video above, are likely to further fuel the disillusionment with Erdogan's rule and the fear that he may not be delivering the democracy that he and his party had promised. It also shows the struggle of the protesters themselves, who have massed in the thousands. The man, 23 seconds in, who is coughing so hard he doubles over in pain appears to be suffering from the effects of tear gas.There are a number of interesting frames in this short video. One comes at about 1:00, when protesters drag makeshift metal barricades along a promenade, presumably to block off police. Another is about 50 seconds in, when some men casually wander the streets as a large fire burns in the background. As the recent protest movements in places such as Egypt, Greece and Spain have shown, demonstrators tend to gain broader public support when they are the peaceful victims of police abuse (this shocking photo has
circulated widely
on Turkish social media) and to lose it when they begin threatening public order.We're not there yet, but watch for the inevitable tension between those two narratives as the protests continue. Check back, as we'll be covering them all week.
source:
The Washington Post
Here are some more pictures and videos: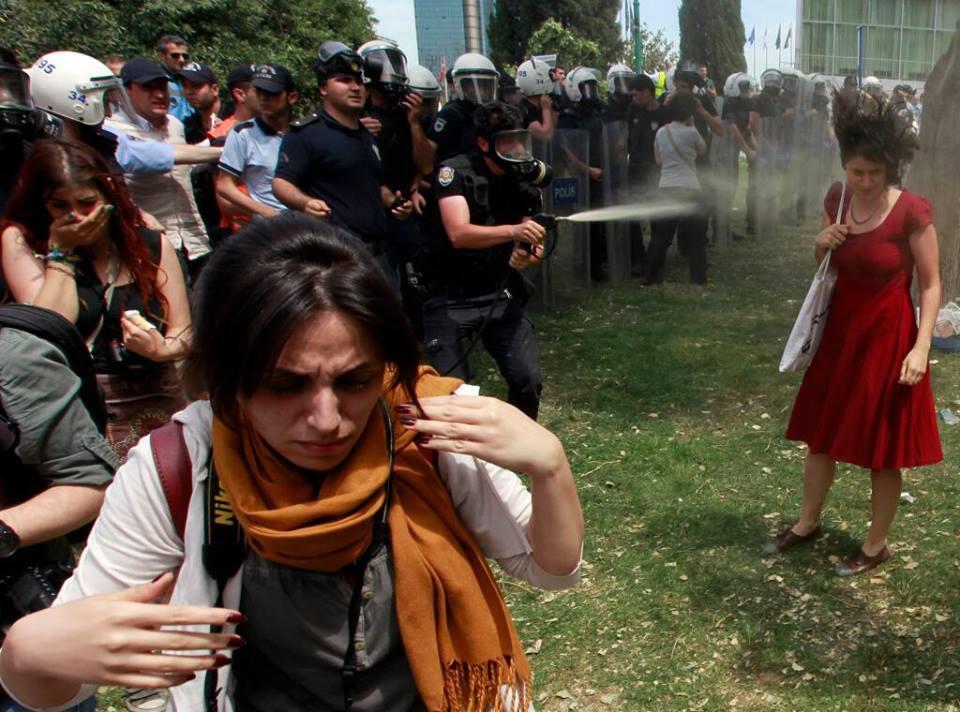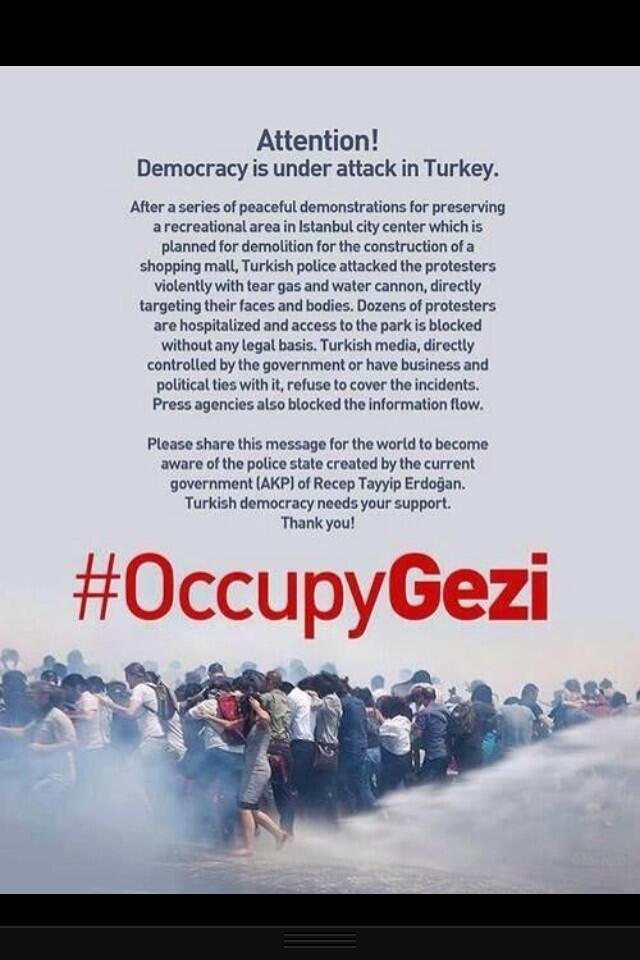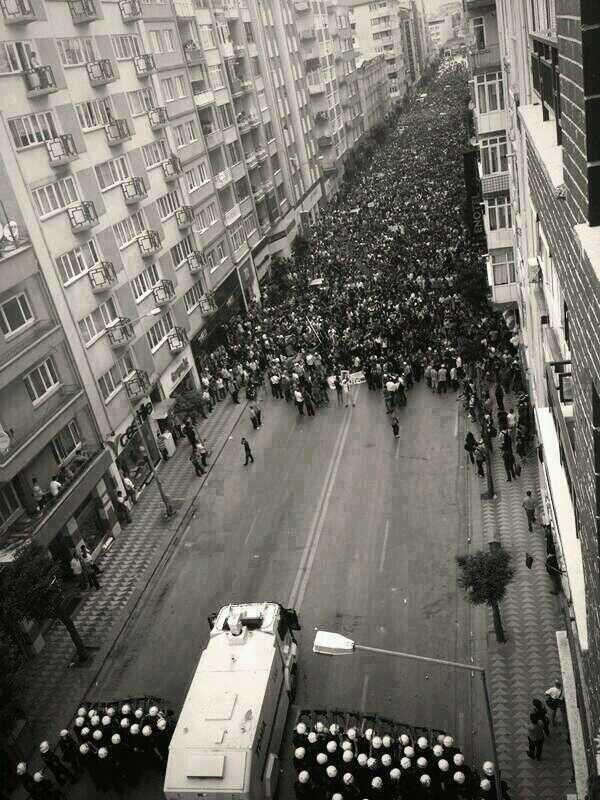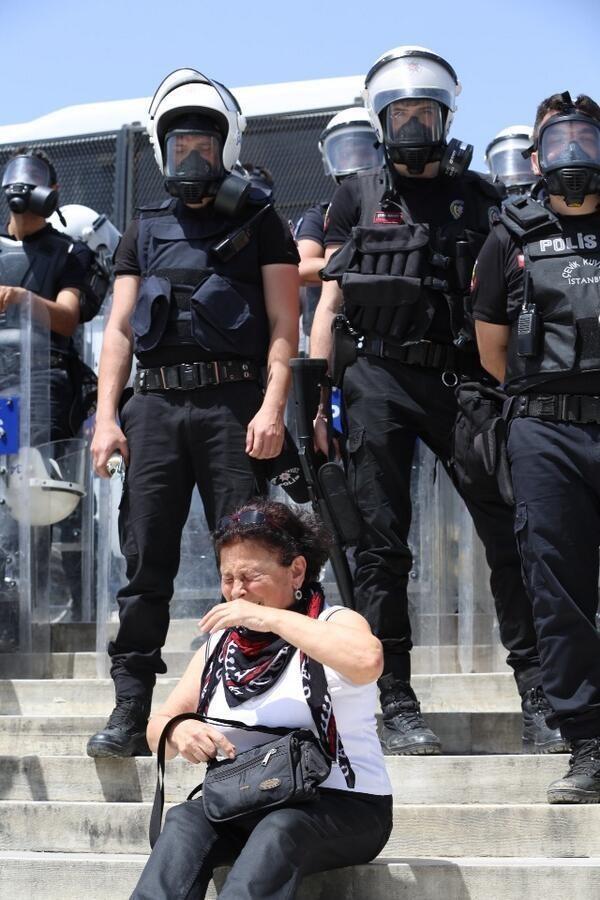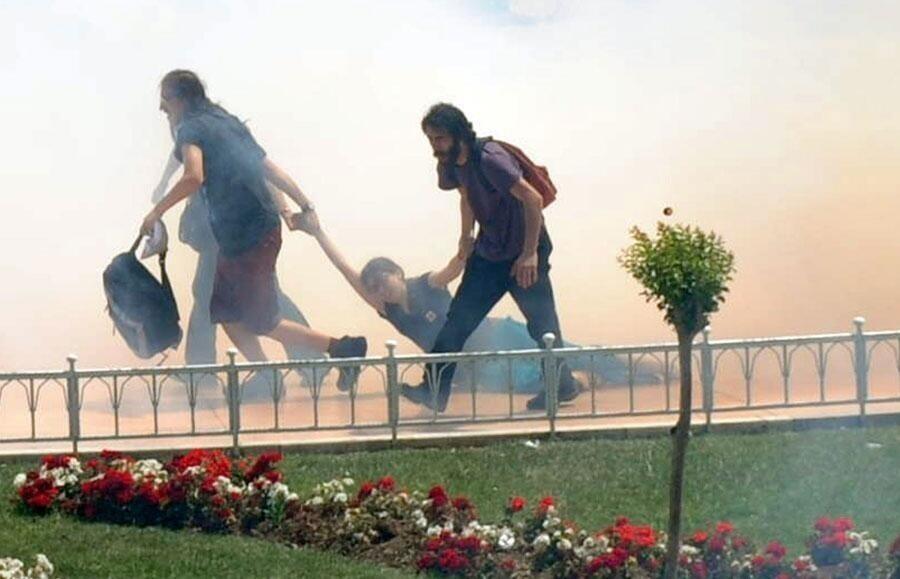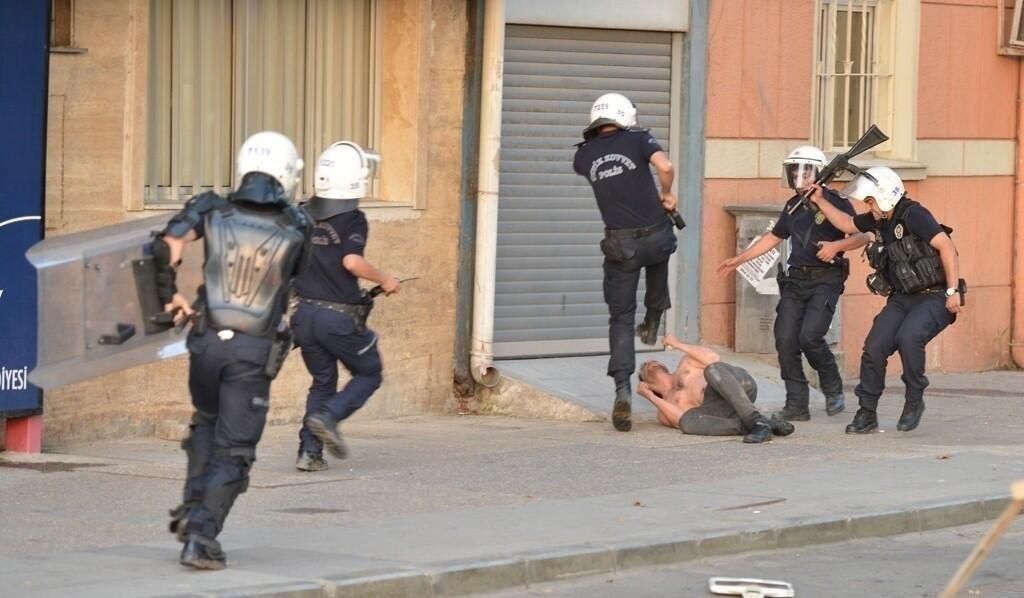 More resources for information on the protests:
http://www.resistturkey.com/
http://occupygezipics.tumblr.com/
https://twitter.com/search?q=%23OccupyGezi&src=hash
http://www.metafilter.com/128599/occupygezi
http://www.reddit.com/r/turkey/new