Devastated to say that for one year only, (2014!) I missed out on Pick Me Up as first-time-mom-life took priority, but this year I made sure that I went, and I wheeled the little one around with me – reassured to see I wasn't the only one with infant in tow. He was well-behaved, soaked it all up and even conveniently napped, enabling me to indulge in some creative 'me time' with blinkscratchart.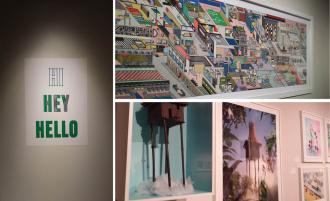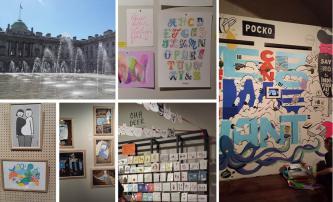 I think over the years the show has become more of a illustration vs graphic design battle, but then I think the industry has become integrated with all forms of hand-made make and create – which to be fair I do love!  This year sees a great push in graphic art, typography and 'new' technologies…well that is what caught my eye anyway. Especially the unpredictable results from the likes of Luke Evans – Xero Project, where he uses 5000,000 volts and manually copies the process of a laser printer (watch the short film too!). I was impressed with Jack Cunningham's Collaboration with the incredibly talented Vincent Techer and his 3D modelling skills!…(our little on is already entering a dinosaur phase). Also Rop van Miero and his water color animal paintings – being an experimenter with my art myself I fell in love with his quote  '…I create a gap, an uncertainty, between the act of making and the actual outcome'. Find out more on the Pick Me Up website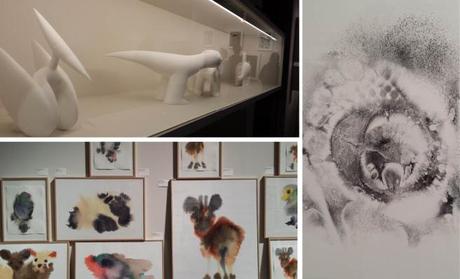 Sneak peak at Luke Evans, Jack Cunningham and Rop van Miero
If you are lucky enough to get yourself over to#SomersetHouse for what is the best creative fair in my opinion – make sure you pause and make yourself something. It is definitely the most interactive yet with its – first ever programme of talks – and the usual workshops galore. I created a typographic artwork in collaboration with our 18month old (by letting him select the tile background tile) and then the lovely guy at SOPE INC printed it for us there and then. I also took part in the daily competition with blinkscratchart. Sope is four quarters of a wholesome hand-crafted vs new tech outfit – check them out here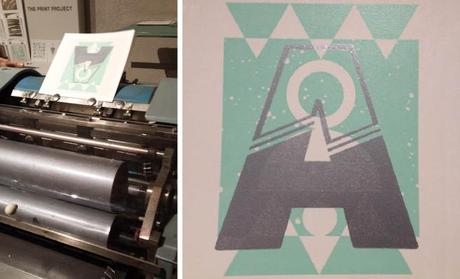 Thank you SOPE INC
One highlight for me was taking the time to discover the inspiring BEST exhibition and talk with the warm and welcoming duo that makes up Niki Best. It was good to talk 'grown-up' with another creative mom and appreciate the balancing art of motherhood with…art! (and share a few family photos of course!). I was really excited to have niki want to share my scratch art with hers on instagram too (and dedicate my post title to hers!). Check out nikibest.com for more info on her multi-medium project and consulting on everythings goings-ons!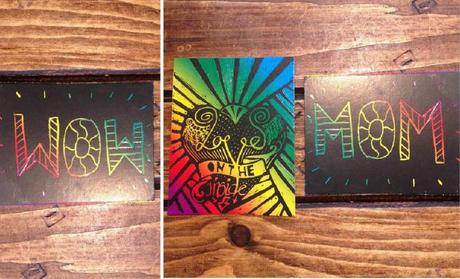 nikibest WOW MOM WOW and my love on the inside for blinkscratchart
Timeout seems to have rated this event as 3/5 stars, but I'd definitely give it a  5/5. I wish I could have stayed longer, had a drink at the bar and got involved in the first ever Talks (they looked interesting!) but that is a visit without the boy. With friends; solo, of infant – you will enjoy it, discover and feel inspired . I'm already looking forward to next years
LOVE ON THE INSIDE
On my 365 Challenge, I created a previous heart art cutting and sticking together from the heaven of AnthonyBurrill designs on a variety of coloured papers. (He is an inspiration of mine but also Pick Me Up 2011 workshop and main feature). I combined this concept with a message that I hold close to my heart 'Love on the inside' (I'm not sure of the origin-I feel like I made it up, but I doubt that somehow!). So it seemed only fitting that I used this line for my scratch art doodle yesterday.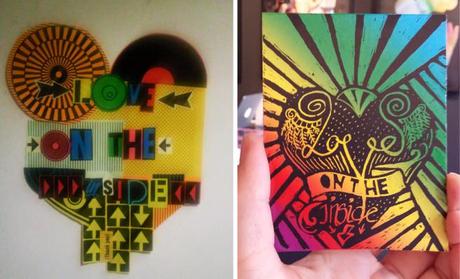 blinkscratchart daily challenge Love on The Inside