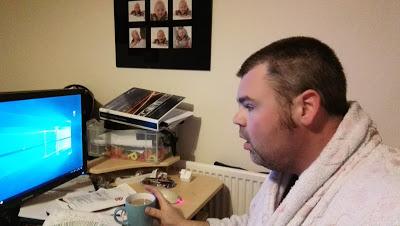 Why am I looking so surprised at a blank computer screen, in this totally non-staged photograph?
It's because I've heard that my wife's Etsy shop is now online, and can be found at
www.denkaidesigns.com
, and my jaw has dropped simply in anticipation of the amazing things she's going to have on offer!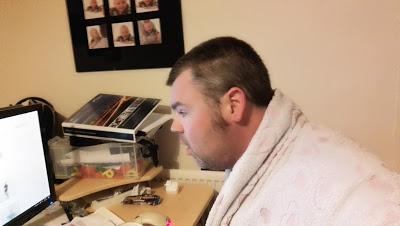 See how surprised I look when I actually get to the website!  My cup of coffee has even disappeared!
My wife Cherise is a keen flosstuber - if you're not familiar with the term, people who cross stitch, and vlog about their hobby, are called flosstubers.  She's been making videos for a few months now, over at
youtube.com/denkai
 (I particularly recommend the bloopers at the end of most of her videos!)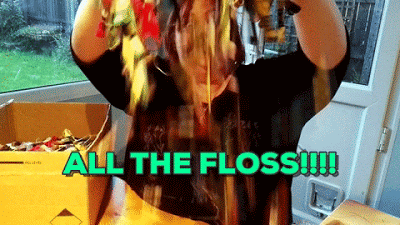 However, she has very foolishly allowed me to edit her videos, so I make GIFs like this...
Cherise has recently started making needle minders, which cross stitchers use to hold their needles in place.  She's put a ton of work into the design of her needle minders and also into the packaging, so that they're like lovely little presents that arrive in the mail.  She's also looking at expanding her range so if there's something that you want which she doesn't have in her shop currently do
get in touch with her
.
Cherise's latest video, check it out
here
:)
For myself, I'm off to Sheffield tonight to act as quizmaster at the
2016 Student Challenge Quiz Night
, which should be good fun!  One of the teams is coming with me in my car so I've had to ask that I don't get a copy of the questions until I reach the venue, so there can't be any question of favouritism :)