We favor decor and interior design over the exterior of our homes. Unsurprisingly, we do this because we spend most of our time indoors. However, when the weather is spectacular, and you wish you were in Italy or Greece, you will want to head outside to your garden. It's really the perfect hangout spot, because it's away from the talking, cooking and indoor leisure. You have the best soundtrack in the world; birdsong, to listen to. It's also somewhere you can go, for even better leisure than your living room. If you design your garden to be the best hangout spot, you'll want to spend time in it every day and not just the weekend.
Move over rattan
If you're sick and tired of rattan furniture for your patio, then you can still have teak garden furniture. It's made out of tropical hardwood which is from the Lamiaceae family of trees. It's a lighter wood than you would find for furniture that is designed for interiors. The wood is, however, strong and can be carved thin, so the outdoor patio furniture can be easily stored and moved around. Heavy patio chairs Adirondack are also another option if you want seats that can take a lot of weight. This might be if you want to throw on some cushions, a throw, and perhaps sit in the lap of a loved one. 
Hangout spot
When the weather becomes warmer, you'll find yourself venturing outside to sit and relax. However, no one wants to be consigned to the patio only. If you have a tree, you can design a brilliant hangout underneath its branches. A swing bench is a must; but what style? A classic American walnut swinger is a great choice because it's strong and has the ability to have the angle of swing changed. Your tree can provide shade but if it's too wild and untamed, it can be a nuisance. To shape and trim your tree, look at these Nottingham Tree Surgery and Arborist Services. Tree pruning and trimming should be done once a year and what better time than this time of year? Tell them to trim the tree to keep the shade over your bench.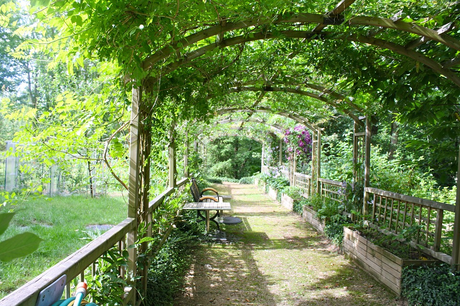 pixabay
Sandwich area
If you would like somewhere to sit and enjoy your sandwiches, why not a wooden pergola? This is a structure that has been around since ancient times. They were found in ancient Greece and then Rome took a liking to them. They create such a presence and provide you some protection from the sun. They can seat usually up to 4-6 people on average but depending on the size you want, you can have a dining table under it as well. The structure is usually bare, so you can place any kind of sheet over it. A see-through white sheet would be great to create a heavenly hangout area.
To make your garden the perfect hangout spot, get some teak or Adirondack furniture, a bench swing, and a pergola. With plenty of spaces to relax, you should invite people over for some food and drinks in your garden. 
K Elizabeth xoxox
*Collaborative post