This post may contain affiliate links. To find out more about what affiliate links are, please read this disclaimer.
Are you like me in feeling guilty for leaving your kitties home alone when you go away for a weekend? Well, it's true that cats are creatures of habit and don't like disruptions to their routine. But ensuring all their creature comforts are taken care of will make their staycation more bearable.

Don't Put Your Kitties In A Cattery
For so many reasons, this is the worst possible scenario for your kitties. The car journey alone will be super stressful for them. Then you're going to leave them in a place with no familiar people, things, smells and worst of all, absolutely no idea if they will ever see you again? I imagine this being the worst kind of hell for a cat.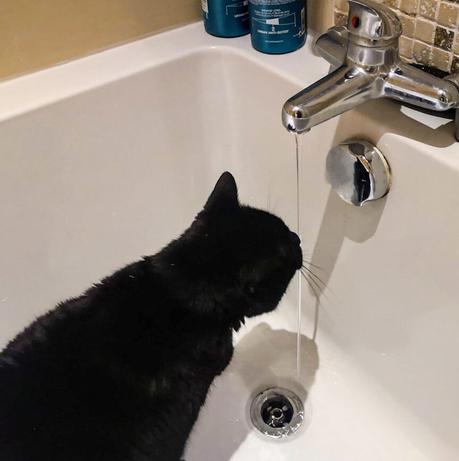 Mercutio drinking from the bath tap, as he does every morning.
" data-orig-size="863,865" sizes="(max-width: 863px) 100vw, 863px" aperture="aperture" />Rachael's cat, Mercutio, drinking from the bath tap. He likes to do this in the morning and will meow at the top of his voice for the tap to be turned on. It will help your sitter to make them aware of little quirks like this when leaving your kitties home alone.
Make A 'Kitties Home Alone' Checklist
A professional will ask you a list of pretty standard questions before you go away. Whoever you trust to take care of your pet, a list will surely help them out with things that may seem obvious to you.
Walk yourself through a typical day in the life of your feline companion. Consider everything you do together from breakfast until bedtime and write your sitter a checklist.
You can include obvious things like where food is kept. Adding other not so obvious things such as:
Leaving the curtains slightly open so they can jump onto the windowsill
Not making the bed because they enjoy 'nesting' in the folds of the duvet
Please can you turn on the bath tap if you hear one of them meowing loudly in the bathroom
You probably don't even notice that you pander to these little quirks. These are the little things that make your kitty feel loved and what they'll miss the most in your absence.

Consider An Automatic Feeder
If your cats are old and used to your comings and goings, they won't mind so much being left for a short time. You just need to make sure they have fresh food and water. If you're only leaving your kitties home alone one night, or even a couple of days, an automatic feeder is the most convenient option.
There are several different types of automatic feeder available whether your pet eats dried food, wet food or both.
Leave Your Kitties Home Alone With A Fellow Animal Lover
Without a doubt, your feline friends will miss the attention you usually give them. Whilst there's no substitute for a familiar human, someone who loves cats will understand their needs much better than the spotty teenager next-door.
For your own security and peace of mind, make sure it's someone you know you can trust. If you have no friends or family locally, pet sitters are a great option. Ask people you know for recommendations.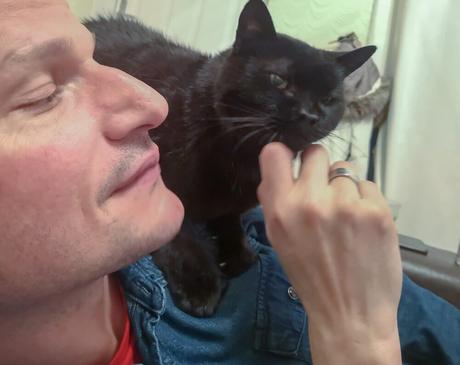 Paul and Mercutio sharing some man time
" data-orig-size="1000,795" sizes="(max-width: 1000px) 100vw, 1000px" aperture="aperture" />Nobody loves these cats as much as this guy! Except me, of course
Stock Up On Their Favourite Food
This might seem obvious but let's just say, your flight gets delayed on the way home and the food runs out. Your kitty carer might run out and buy they can get from the corner shop. My boys are very particular about their food (some might say spoilt) and this would not go down well with them!
Leave Supplies Where Your Cat Sitter Can Easily Find Them
Ok, this shouldn't happen if you hire a professional but… The last thing you want to come home to is an overflowing cat litter tray because your sitter couldn't find the scoop. Whilst you might not ordinarily leave pet paraphernalia all over the kitchen worktops, this will no doubt help your kitty sitter.

Clean The House Before You Leave
I usually trust my mom watch over things whilst I'm away. I'm always so grateful to her for spending time in the house so my boys don't get lonely. However, she does feel it necessary to clean up after me even though I'm a grown adult. Love you mum!
I don't know about yours but my buys hate the vacuum cleaner with extreme passion! I do worry that one day my mom will whip it out whilst I'm away and it will be too much for them. Being left alone is stressful enough without having to deal with the prospect of getting sucked up by the noo-noo!
Limit Treats
It might be tempting to stock up on a big stash of treats for your sitter to dish out whilst your on holiday. You might think this cheers your pet up whilst you're away but treats are not good for their long term health.
My mom likes to treat us whenever we go to her house. I'm sure if I left a stash without any instructions on limits, the lot would be gone by the time I returned home!

Discuss Worst Case Scenarios
Heaven forbid, your cat might put one of their nine lives to use whilst you're away but there's always the chance that they might. Leave contact details of your vet and clear instructions on what to do in a worst case scenario.
You don't want to come home to a huge vet bill if something happens that you would not have paid for given the choice. Or at the opposite extreme, minus a pet if they might have called to ask for your credit card details if needed.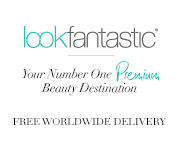 Express Your Gratitude
You don't need to go crazy but a small gift might make your cat sitter more inclined to help you out if you need their help again in future. Obviously, if you're paying a professional this is not necessary. However, a thank you card might put you towards the top of their list if you ever need their help during busy periods.
Do you have any more tips for how to keep your kitties happy when you go away? I'd love to hear from you!
Rach x
This article first appeared on whatrachdidnext.co.uk. If you enjoyed reading it or find it useful, I would love it if you would link to it or share it on social media but please don't copy my work. All pictures are taken by me, or I have permission to use them, and all words and opinions are my own, unless it's a quote.