People Magazine, that purveyor of gossip to the good citizens of the US of A, has just named Bradley Cooper as its sexiest man alive.
I feel conflicted about this. Whilst I can't disagree with the aesthetics (the man is quite clearly a cut above most other specimens of the human race) I don't feel that I would place him this highly on my own mental list. Yes, he has a pleasing face to gaze upon whilst attempting to sit through The Hangover (again) – but the single sexiest man on the planet? I'm not so sure.
But then, I'm far too into our very own British actors to give an unbiased opinion.
I reject the stereotype of Hollywood as a land of Adonises that exist purely to make our humble island-dwelling knees wobble. Here is my justification.
British culture is built upon self-effacing humor. Mockery, sarcasm – it is what we have all grown up with. What actor, other than a British one, would take the piss out of himself by donning a reindeer jumper and then staging a ridiculous fight in a fountain over a slightly overweight and blathery thirty something woman whose culinary skill extends only to blue soup? (I'm looking at you Colin Firth, you babe). Can you imagine this level of self-deprecation coming from an American? No, thought not. They just want to be taken seriously. Yawn.
My next reason is that I don't like them polished. Every man needs a bit of stubble. Gerard Butler is my favorite example of this. Hollywood types are far too groomed, and honestly, it just ain't appealing to a girl from Yorkshire. I don't spend that much time in front of the mirror myself, so really, if you're going to be there longer than me then it isn't going to work between us, Mr Hollywood. You and your manscara can go on your merry way. I'm sorry to say it.
Our current crop of top Brit actors (James McAvoy, Andrew Garfield) also sort of look like they might have been in your class at school. This is nice, because it means they look like men you could date without feeling too intimidated. Also, the two mentioned here (from Scotland and Essex respectively) tend to look just a little bit scared by the position on the outer fringes of the Hollywood big league, which quite frankly is just adorable. It makes me want to buy them a cup of tea and crack open the therapeutic Hobnobs.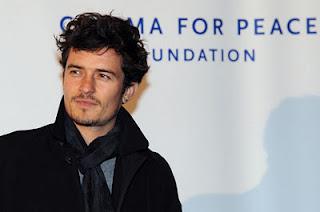 Also, Britain is cold, and I have a weakness for a man in a good winter coat. Don't ask me why. Leading the Brit actor pack with his exceptional coat wearing skills is Orlando Bloom, who seems to have been hanging around in his sexy coat with its upturned collar for my entire life. Here he is in 2010. See what I mean? Something about a man who understands the importance of spending money on a coat suggests to me maturity and intelligence. A good coat will last a long time. The man in it will be a keeper, too.
Finally, a large part of my Brit actor obsession is that, unlike the Hollywood stars, the sheer proximity of our Brit boys means they are so, so much more real. When I move back to England I'm unlikely to run into Bradley Cooper in my local pub in Wimbledon; running into Dominic Cooper, however, is a strong possibility.
With that in mind, I'll be in a cosy British pub within a few hours of getting off the plane. Call it patriotism.