Adding  on to my choices for this year's Webby Awards is "Dear Photograph," for best blog – cultural.  What exactly is this reader submission-based site, which is considered one of the top websites of 2011?  Simply put…
"Take a picture of a picture from the past in the present"

An example:

"Dear Photograph, Once upon a time, long ago in 1953, our grandmother held my mother's hand and whispered words that I will never hear. Perhaps one day I will know what tender secrets she told….for now I can only imagine. Helen"
How did Dear Photograph get its start?  It was started by Taylor Jones just shy of a year ago (May 2011), and in as little as three months later, the concept had caught on so well with the public that he quit his day job and moved to Hollywood ("…swimmin' pools, movie stars…"), and he now has a book of the same title coming out, a collection of the best photographs submitted to his site.
"The book will be essentially a print version of the website's photo-in-a-photo concept Jones stumbled upon while flipping through family photos. When the 21-year-old came across an aged shot of his younger brother, Langdon Jones, 18, sitting at the exact same table and chair years earlier, he thought, "this would be really cool if I took a picture within a picture." So he overlaid the old scene on the new and snapped away. He repeated the process with a few other prints, and then the self-professed social-media junkie bought the domain name dearphotograph.com and posted the shots on May 24. Each meta snapshot carries a cutline that adds context and meaning."  – therecord.com
How does it work?  Much like PostSecret, readers send in a current photograph set in a locale of a previous superimposed photograph, and also share a personal sentiment to explain its significance.  The works collected are bittersweet (like time swiftly passing can be) and something we can each relate to on some level in the way our own memories affect us.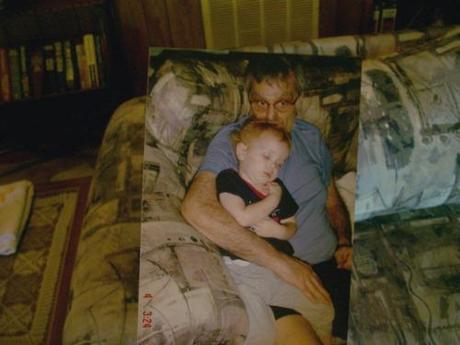 "Dear Photograph,This will always be Dad's spot.Love, Tracee"
Ah, my Dad had his own spot, too. <sigh>
I enjoy looking at old photographs whether I know the subjects or the locales or not, and I know I'm not the only one.  Take a look around DP's archives and see if you enjoy the photos as much as I do.