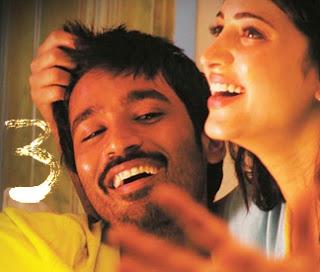 Is 'Bi-polar disorder' a metaphor for the medical condition the movie is suffering from – a tug of war between a whiff of fresh adolescent romance and a burst of stale bestial madness ?
Dear Dhanush, we have seen enough of your comic facial contortions, to express frustration, anger and rage, in your previous works. Don't you think it's time to move on, perhaps slip into a character which is less inclined to self-destruct?
I understand that Dhanush has this rare psychological condition, but how does that vest him inhuman physical strength – good enough to beat to pulp a group of thugs? The argument – "This is Tamil cinema boss, the hero can beat up as many thugs as he wants to" doesn't hold water. This movie doesn't pretend to operate on that formula. His psychological condition transforms him into a beast, if only momentarily. But even such a beast has to operate within the physical limits of an adult male. Having 'Bipolar disorder' doesn't mean he can play Clark Kent, as and when he desires.
Dhanush as a teenager looks the part perfectly, but he walks and modulates his voice more like a retard than as an adolescent. That aside, he  is honest to his age – extremely cautious about his external image that he would rather drench in the rain going to school than wear a rain coat, and rides the vintage RX100.
Can Tamil cinema please do away with sidekicks to heroes and heroines? Even if it wants to be conservative, can it not reduce the sidekicks to pathetic caricatures, blurting out stupid jokes?
Shruti Haassan, contrary to what my Facebook timeline was suggesting a week back, has been cast perfect for her role. She is coy, and charming in those striped, maroon school uniform and exhibits, profusely, the characteristic adolescent instability. That awkward, nervous walk to the gate as she finds Dhanush waiting in front of her house, that void that she feels when she misses Dhanush in the tuition after a period of self-denial, that first physical closeness - 'venum, aana vendaam' moment- she experiences with Dhanush at her apartment mottai maadi captures, vividly, the sensibilities of a teenager trapped into something she has never experienced before, something she believes to be 'love'.

That very brief moment in the hall as she re-enacts her intimacy with Dhanush, post his loss, is a melancholic snapshot of 'pain', no less than death.
Isn't the act of sniffing clothes to invoke nostalgia and eroticism too banal that our filmmakers now need to conjure up alternate imageries to provide such cues?  
Taking a small detour from the movie, why are adolescent romantic episodes, in India, weighed down under the need for a long-term relationship? Such episodes, by definition, would be founded on infatuation, raging hormones and experimentation, and thereby should, most often, fail as a natural consequence. However, does the absence of sexual experiment to the equation deprive the relationship of its natural death and generate the need for a long term relationship- which is unnatural, unsustainable and a one way street?
Isn't five years of being in a relationship good enough for Shruti Haassan to have seen the 'marupakkam' of Dhanush? (Not to be taken literally, of course!) It is nutty to expect us to believe that such a psychological condition appears out of nowhere, like bread toasting in a toaster- popping out with the onset of an alarm. I suppose Aishwarya Dhanush was too busy searching for a rare psychological disorder from Wiki that she didn't bother reading between the lines on the genesis of the medical condition that she had discovered.
As a director who can venture to conceive the idea of a hippie couple marrying in a nightclub, why  is Aishwarya crippled to expand her imagination about her female lead- reducing Shruti to a mere "nalla ponnu, nalla samaipa" (as she is described by Dhanush to his father)? Why is she stripped of her 'thaali' after the demise of Dhanush? What is a girl- who was supposed to go to US to study- doing at home cooking all day and shopping out while her husband is a business man and a part-time maniac? Dear Aishwarya Dhanush, I understand that you were too preoccupied with making a hard-hitting psychological thriller that you weren't bothered to do away with such hideous portrayal of a woman, but hey, then, we should have been saved of the hippie façade in the first place.   
Syrio, in R.R.Martin's 'Game of Thrones', educates Arya Stark– "There is only one god and his name is death and there is only one thing we say to death: 'Not today' ". As the movie progresses into the second half and as Dhanush expresses maniacal tendencies with each passing day, you would desperately want to summon the gods of death and explode – "Today!…. Right now, Goddammit!"