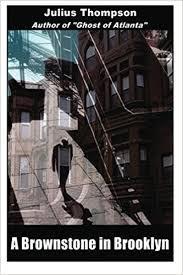 5.0 out of 5 stars A YOUNG BLACK MAN GROWING UP IN THE TURBULENT 60`S
By DENNIS DE ROSE on April 9, 2013
Format: Paperback
Julius Thompson`s "A Brownstone in Brooklyn" is about a young driven Black man,his family and his Brooklyn brownstone neighbors and friends. Julius has the uncanny ability to write with such intensity that you can`t help but feel that you were actually walking right next to Andy Pilgrim as be experienced,firsthand, the love of his family,friends and neighbors and their drive to push him to be all that he can be. Unfortunately, life is not that ideal. Andy experiences some very trying life lessons..the extreme jealously of an old friend to the point of dire consequences; black and white prejudices, again with dire consequences; and last, but certainly not least, the race riots of the late 60`s that affected many inner city communities. He witnesses rioting,shootings,death,looting,burning buildings and severe property damage.
As a White man, I knew very little about the late 60`s race riots and Julius has helped me to see, firsthand, the extreme feelings and the emotions that people, both back and white, went through during that time. At that time, I was a self-absorbed teenager and I was not affected by those events, so I felt nothing for others that it affected. This book has altered my sensitivity to others unlike myself. It has provided me with a closer look at Black issues of the times.
There are also some underlying issues that Andy is dealing with during this time in his life. I will not delve into them; I do not want to spoil it for future readers of Brownstone.
Julius Thompson has done a wonderful job with "Brownstone in Brooklyn". If you like it, and I hope you will, I know you will want to read the next two books in the Andy Pilgrim saga; I can't wait. Julius, please keep writing;you are doing a wonderful job...
Julius, I would be remiss if I did not tell you that your editor did a wonderful job with this book; I could not find one mistake.