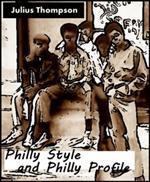 4.0 OUT OF 5 STARS
Good storyline!
By Amazon Customer on November 23, 2016
Format: Audible Audio Edition
The story follows the life of Carl, a basketball star, whose life is now suddenly under threat, by the gangs who inhabit the city of Philadelphia. His good looks, name and the glory that followed him, only make him a likely target in the eyes of Jake Meyers, a master drug dealer, who is jealous of him. Andy, a sportswriter, gets involved unknowingly, when he is handed over a bag, which has killed all those in possession of it. The unfolding of events, over the course of a few days, surrounding the brown leather bag, unravels many mysteries.
The book showcases how good and evil coexist and a handful of people's attempts, to change a society involved in drugs and gangs. The author takes you on a journey, through the streets of Philadelphia, keeping you in suspense, along the whole way.
While neither the title, nor the cover does justice to the storyline, the old adage "Don't judge a book by its cover" stands true in this case. The story is very well written, providing insightful glimpses into the lives of the ordinary citizens in Philadelphia, during the 70's and their struggles with gangsters and drug peddlers.
Please click to Purchase Philly Style and Philly Profile!