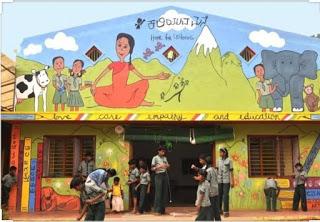 Have you ever thought about the happiest days of your life? Well, I recently did, and a day that I spent in an NGO made it to one of the happiest days of my life.
I must admit that this visit gave me immense happiness and satisfaction at the end of the day. 
Kaliyuva Mane an innovative school for underprivileged children was located on the outskirts of Mysore. It was a four-hour ride from Bangalore, and two of my colleagues accompanied me there.
The founder, Mr Ananth Kumar, a very humble and a kind person, dressed in a traditional south indian lungi and shirt welcomed us. The school covered a very big area with an optimally sized playground for a leather ball cricket match,  a small fertile land to teach basic farming techniques to kids, a residential building for boys and girls, a canteen, and a small building for admin office and school.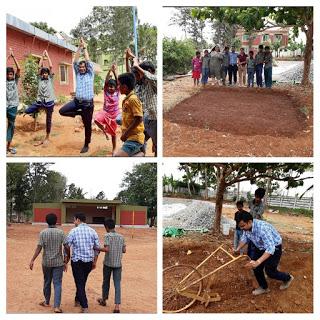 We started our day with farming and all of my wrong notions about kids were cleared at that very instant. The kids were smart and they engaged us by their regular questions and literally taught us to sow bean-seeds.  I did ploughing and could onlyshow my power to move the plow here and there and messed up that land.  They taught me that very basic thing required for survival - Farming.


We later exchanged views about their future goals and guided them on the steps to achieve it. They were also taught yoga in their school, and we, for some fun did it together before lunch.


Lunch was in itself an enriching experience.  We, after a long time, sat on the floor and ate lunch with 80 kids. We were served tamarind rice and bissibili bhat. I realized that day that how an environment and aura can add deliciousness to the food. The food was ok and our appetite was fulfilled. 
Later in the day, we organised a painting competition and played basketball with them. We did not give them any money, but of course one of our office colleagues donated some good toys, sports goods and books. They were happy to accept anything and everything. 
During the day one of the kids held my hand, pulled me and made me walk towards the ground, with baffling inclusiveness that generally we even do not find with our family members. This incident touched me deeply and will always be with me for my entire life. 
I saw a different way to live a happy and contented life: A life without an abundance of money or resources, without mouth-watering food and branded fruit juices, but a life with an enriching and nourishing education system and a life that promotes inclusiveness for anybody and everybody. That day I realized what true happiness is. That day my life showed me a life mirror that I am just one of those fortunate bunch of population who was born in a well-to-do family.
If life gives you an opportunity like this, then be opportunistic and grab it with open arms. BELIEVE ME, you will not regret it but will only earn lifelong happy memories.
Keep Smiling 