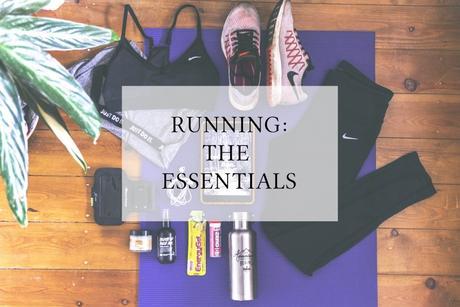 Last year I wrote a focusing on some training tips when it comes to running. At the time I was training for my very first half marathon and was easing myself into running longer distances. These techniques still remain the same for me to this very day. On March 12th I successfully made it to the finish line at the Silverstone Half Marathon and completed it 19 minutes faster than the first, simply by using these tips...result!
I was absolutely over the moon and since posting my run on social media a few people have shown their interest in starting running. I love hearing that people want to start running. I know how good it feels and how much of a mood booster it can be, so I just feel excited for the person who is about to embark on their own running journey.
With that in mind, I wanted to share some of the things that I find 'essential' to running. My list will be different to another runners list but here's what works for me!
CLOTHING:
Leggings - Finding the *perfect* pair of leggings was a game changer for me. I run in all brands of clothing from Lululemon to H&M, but Nike leggings are the one. They fit perfectly, if a little too snug but that makes me feel supported, and they have mesh fabric at the back of the knees to keep the air flowing. They were a pricey £70 but 100% worth the pennies.
Tops - I run in pretty much any top I can get my hands on at the time but usually its a quick dry one as I sweat a lot and cotton lasts about 5 minutes before I look a little on the dirty side. Unless it's freezing outside I'd also rather a tank to give me that little more air and movement.
Trainers - Need I say how important this is? Hopefully not. I had gait analysis and was told that the Nike Pegasus Zoom ones would be right for me, so I gave them a shot and they are perfect. They're extremely muddy now as I run outside, so I've got the Nike Free RN for running on the treadmill at the gym.
FUEL:
Water - For runs lasting 30-60 minutes it's not usually advised to take a drink with you. If you're running any longer, it's really your call as to whether you feel you need it. I never run with a drink even if I'm aiming for half marathon distance unless it's a hot day (I live in England, there's no chance of that.) I'll usually have a glass of water before my run and have one waiting for me for when I get back. You're going to lose a lot of liquids while you sweat so it's important to replace it as soon as you can.
Energy gels/drinks - Gels are great for a boost of energy on a long run and can keep you going for that extra mile. There's quite a bit you should know about gels, which ones to try, which need water etc, so do read into it before you buy - I'm definitely not here to advise of the health risks on that!
Food - Gaining fuel before and after a run is definitely a personal thing, but there are certain foods that are better than others. Again it's a trial and error thing, I like to eat at the last-minute to save my energy levels, but you also don't want to be running on a full stomach. This is a good little guide to go on!
GADGETS:
Phone holder - I always take my phone with my on a run because I want to know what distance I've gone and at what pace, especially if I'm working on my speed. I use an app called Strava to do this, it gathers all the information needed and saves every run so you can see your progress. There are of course fancier, easier ways to do this and if you can afford a Fitbit or similar I can only dream of how much easier it would be! (Straining your neck just to look at your distance and pace every now and then through a long run is not ideal, imagine it just being a flick of the wrist!)
Earphones - Not necessarily an essential but a good option to have all the same. I often run near a river so I quite enjoy listening to the natural sounds of nature, but there's no doubt about it, music can often keep me going on a long distance run and it also makes me run faster. An upbeat playlist is always a hit!
FRESHEN UP:
Deodorant - I'm going to be honest, no matter what I'm doing, whether it be walking, cleaning, working out or running, I sweat. A lot. It's in my genes and I have had to get over it. But one thing that DOES help, 100%, is this Primal Pit Paste Deodorant. This is the best deo I have ever used, and it's organic, cruelty free, chemical free, synthetic fragrance free etc etc...I cannot sing its praises enough. Definitely recommended. *Thanks to my Uncle Simon who came across it!*
Mist Spray - Lush 'Breath of Fresh Air' I use this toner spray for removing make up left on my face after washing in the evening, but I also spray it in the morning to wake me up a little and before/after a run for a little refresher. Definitely recommended for a little boost.
And that's really it! The main thing to remember is that running really is free. Anyone can run. YOU can run. And if you find running hard...run more.