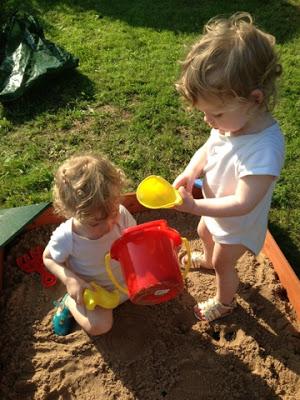 For a few weeks I have been patiently waiting for the rain to head off away for a few days and for the sun to beam it's lovely rays brightly and give the twins a bright and sunny weekend and this weekend was definitely the weekend for that.
I have been patiently waiting, not just because I am paler than the palest of vampires (as is Indigo, though River has a little more colour), but because we got given a sandpit to have fun in the garden with and due to the copious amounts of summer rain it has not had a chance to be played in - until now! 
The sandpit is from
Argos
and construction wise, it is seriously easy to put together. It is colourful, but tastefully so, which means it is pretty easy on the eyes and fits into the colourful jungle that we call our garden quite nicely. It has a cover to keep out creepy crawlies and naughty cats - though the only downside is that the cover does not clip into place, so to secure it you have to use stones or rocks ...or actually if you have some, bricks would also work quite well.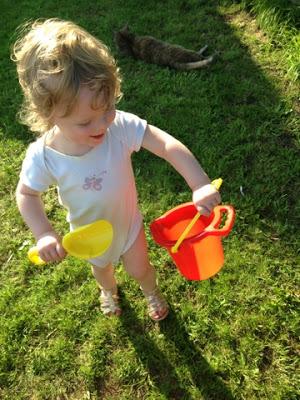 The twins took to the sandpit instantly. River was particularly enamoured with it and kept getting handfuls of sand and rubbing it through his fingers. We also got given a bucket and spade set, that along with the bucket and spade contained a very cute seahorse shape and shell, all of which they had a lot of fun with. In fact Indigo seemed to enjoy the bucket and spade set even more than the sand - she kept turning the bucket over and hitting it with the spade like a drum. 
The sandpit was easy for them to get in and out of and I really think it makes a great addition to our garden and adds a whole new element of fun for the twins. 
We also got given a Fireman Sam trike. This is perhaps a tiny bit too big for them at the moment, but they had lots of fun being pushed around and when we all head to Center Parcs in September, I imagine it will get a load more use. It is bright and colourful and I think I will def have to nab myself another in the near future as sharing at the moment apparently, is not quite their forte... 
You can find out more about these items
here
. 
Well, after washing two sand covered tots and having spent some time sizzling/sparkling in the sun. I need to sleep!
Below are some more pictures of River and Indigo having fun in their sandpit.