He has turned seventy, recently. Let's celebrate his "strength's."
"Struggles and uncertainties, successes and disappointments, accusations and controversies, ill health and months in hospital, all such a vivid kaleidoscope of moments, events, images simply unbelievable and unimaginable" writes Amitabh Bachchan in one of his blogs.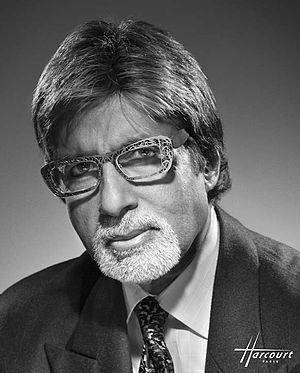 English: Amitabh Bachchan photographed by Studio Harcourt Paris Français : Amitabh Bachchan photographié par Studio Harcourt Paris Harcourt Paris (Photo credit: Wikipedia)
Failure number one was his voice. His rich, baritone voice, being a single reason for every fan of his to visit the cinema hall was a weakness, according to All India Radio ( AIR ). He was rejected there and sent home. So did Ameen Sayani, the great radio jockey of "Geet Mala" fame. Sayani was a bit too busy to grant an audition for a tall, thin Amitabh in 1969. Amitabh changed this weakness to strength and made millions of fans flock to cinema halls to hear him just for his voice.
Failure number two was his streak of thirteen consecutive flops. Any other man would have shut his suitcase and returned back to Shaw Wallace to continue as a shipping assistant. But Amitabh, persisted to hang on till "Zanjeer" appear in the form of God sent Prakash Mehra. Then there was no looking back on his movie career.
Then something unexpected happened. Failure number three. The most infamous punch of villain Puneet Issar during the shoot of the film "Coolie", made Amitabh Bachchan swoon and soon he was on the operating table. Puneet Issar was made a villain in real life and was movie less for nearly six years because of this incident.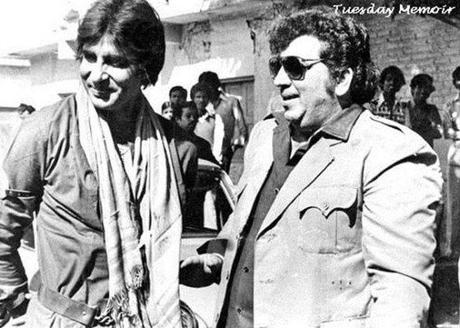 Amitabh with Amjad Khan during the resumption of "Coolie"
Again Amitabh bounced back to stardom despite this severe blow on his stomach. Any other star would have simply said good-bye to filmdom and taken a retirement. But Amitabh thought otherwise and went on to act in several films. Then a period of lull set in. Some of his films started to fail at the box office and he was out of work. He was not seen in movies for five long years.
Failure number four. He set up ABCL ( Amitabh Bachchan Corporation Ltd) in 1996. He produced a couple of films under this company and all of them were flops. Then he brought in the Miss World 1996 Beauty Pageant to Bangalore but literally lost millions in this contest. Then he had to face a lot of legal battles surrounding ABCL and had to pay of his loans by the penny. Again Amitabh showed a lot of grit and determination which entrepreneurs can borrow. He returned all the loans, started his acting career again and went on to take a new avatar as a host for the  "Kaun Banega Crorepathi" show on television. He retained all his properties and self-respect quite intact. He continues to shine as bright as ever.
During his struggling days, Amitabh Bachchan had spent a few nights on a bench at Marine Drive, Mumbai. He loves to point out to the bench every time he drives past it. After all this success and stardom he still remains a very modest man.
0.000000
0.000000