I love to travel. 
J'aime voyager
. Believe it or not, I don't remember telling
myself about my love for travel with full conviction and bravado until now. How I suddenly wear my travel adventures with pride only after so many years of traveling I can't exactly explain. It's a particularly good feeling I started to feel
while in a turbulent-field flight from Bohol to Manila yesterday.
We were in Panglao for four days and truth be told, Alona beach did not wow. It is not at all underwhelming, don't get me wrong. But in perspective, Alona is a stretch of fine white sand, one among the 7
,017 
circumferences that make up the Philippine archipelago. What Alona gave me though were typhoon Lando's strong winds, huge waves that constantly crashed the boats, and a pile of coconut tree debris.
Between you and me, I felt incredibly refreshed by the cold mist of the gushing winds that encapsulated Alona as I repeatedly and leisurely walked the short distance from one side of the beach to the other, day in and day out, without any hint of boredom.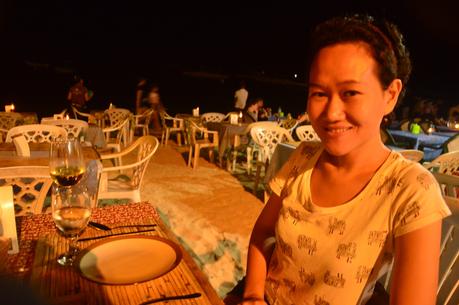 Chill comes with old age. Me all smiles for a dinner by the beach at Hayahay Restaurant in Alona beach, Thursday night.
What I Talk About When I Talk About Love of Travel?
Travel makes me feel tiny, minuscule, small, and nothing but an energized speck of dust in a marvelous earth in an unimaginably humongous universe. That, I've certainly thought of before but other meanings of lesser truth somewhat pervaded: when travel meant tours, sights, pictorials, exhaustion, stress, and drama. Chill 
comes with old age, I tell you. And wine.