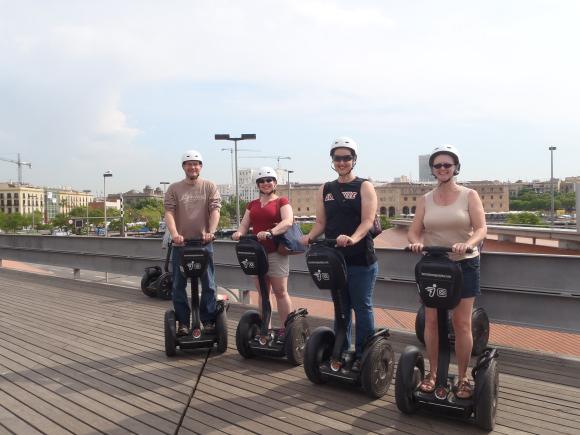 After having so much fun on Segways at Epcot and in Washington D.C., the four of us decided that we needed to do it again. Plus, it seemed like the smartest way to see as much of the city as we could without having to rent a car and worry about parking, and without having to wear our feet out doing any more hiking than we already were. I seriously wish I brought a pedometer to see how far we walked!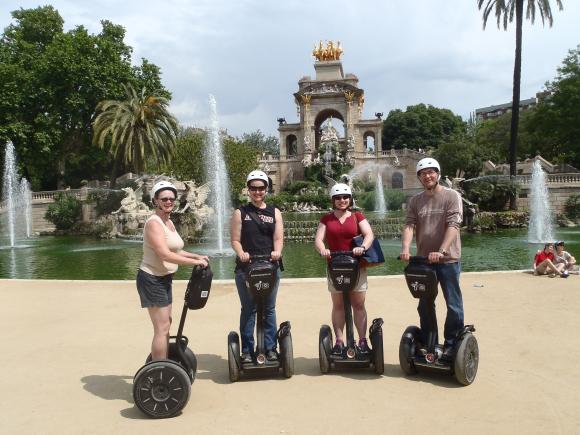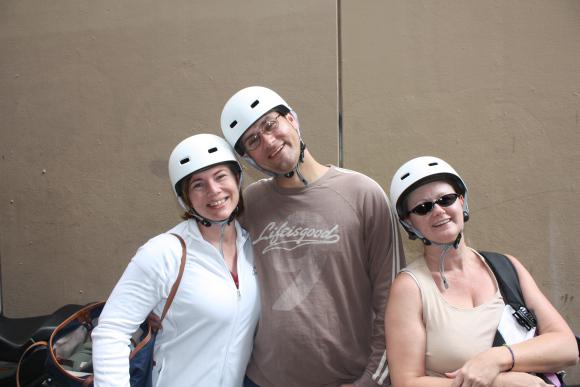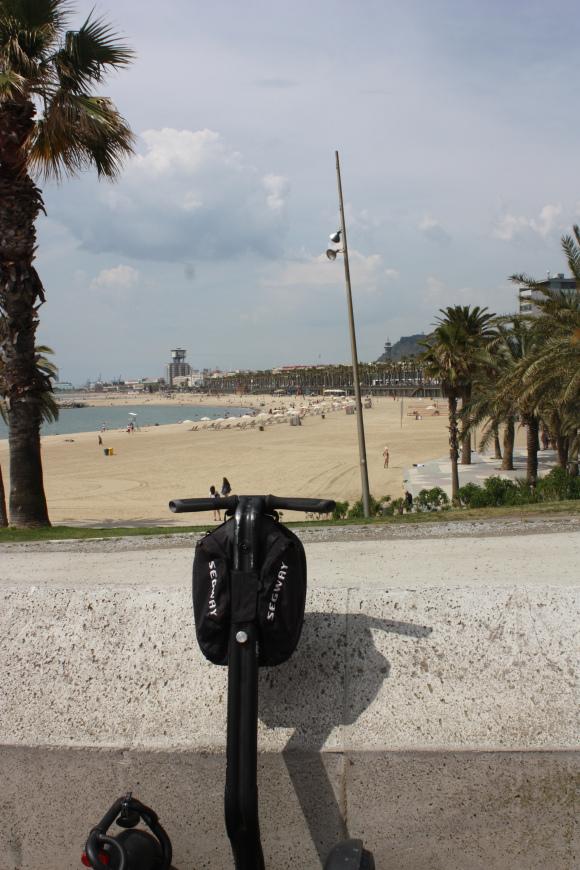 We zipped around the waterfront, through the Gothic quarter and old town, and around the Olympic stadium and Olympic village. Our guide was able to give us some great info and insight into places to go, things to do, the history of Barcelona, and the history of most of the structures. Again, just about everything was built during the International Exhibition, the Barcelona Exhibition, and the Olympics. The beach you see above wasn't even there until right before the Olympics!
However, we did miss out on one thing I absolutely wanted to see before we left Barcelona, and that was Anton Gaudi's architecture strewn throughout the northern part of the city. Casa Mila. La Pedrera. Sagrada Familia. So after fortifying everyone with water and snacks, I took them on a little bit of a road-march into the northern part of the city.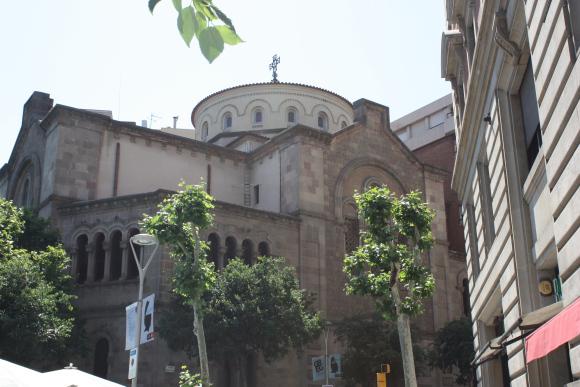 As we walked, we saw a subtle shift in the buildings from the stark Gothic and neo-Gothic lines to more ornate and fanciful designs more typical of the Modernisme/Art Nouveau movement. We spent some time looking around Casa del Punxes here.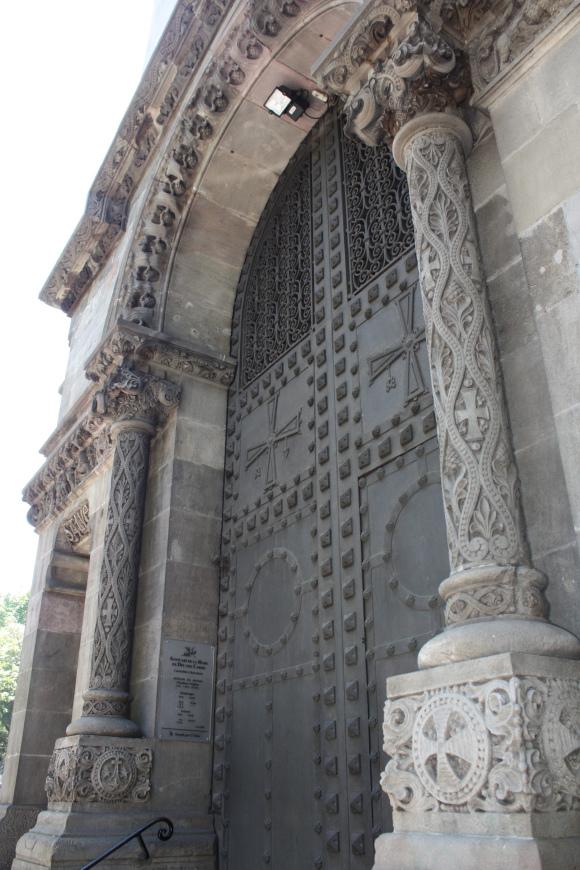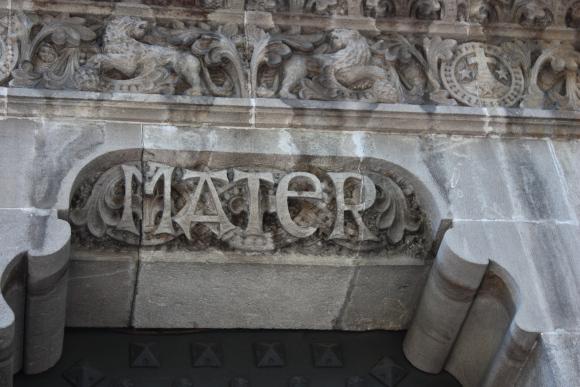 We took a wrong turn and ended up at Casa Mila, also known as La Pedrera. Architecturally, the building has had a controversial history in Barcelona. Given how much the monumental building sticks out against the stark lines of typical Barcelona architecture, I'm not surprise. See it for yourself: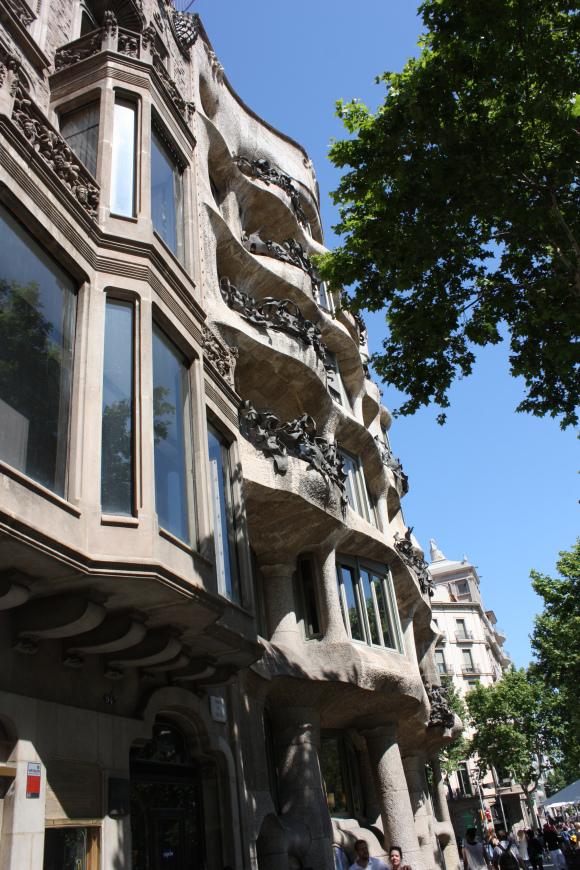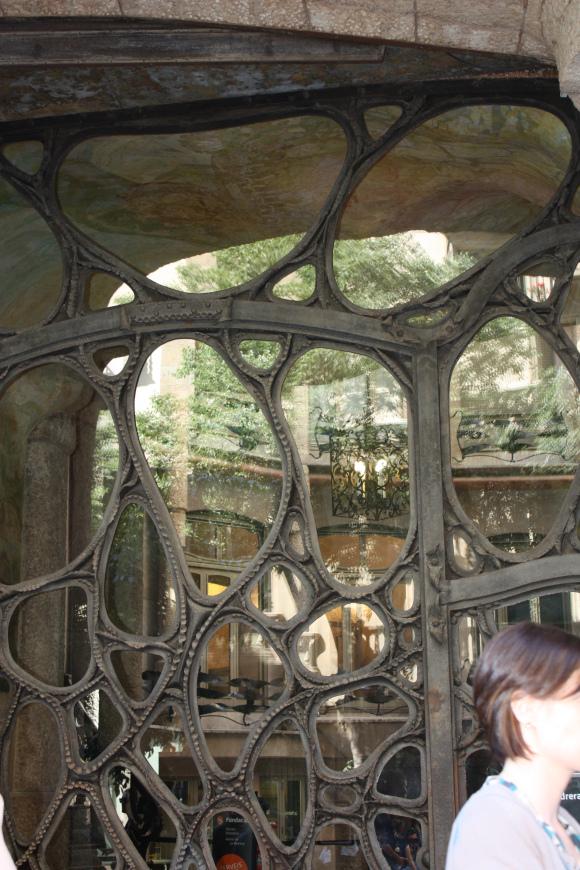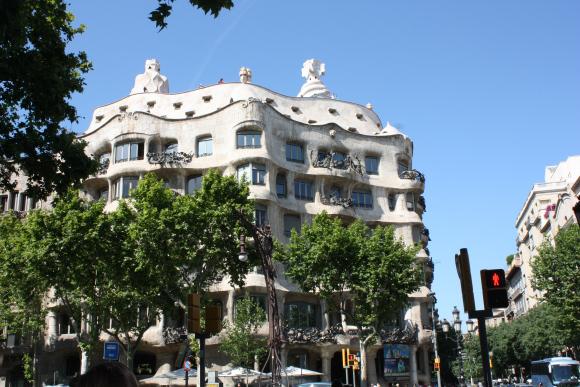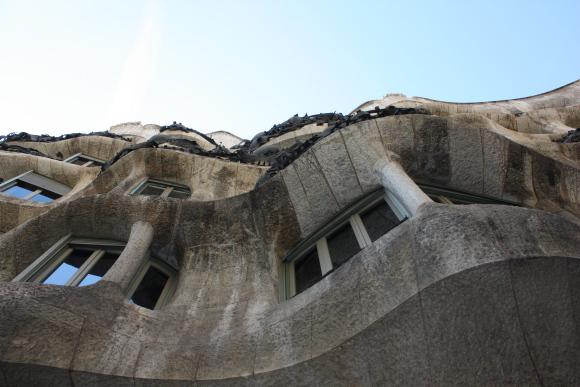 So the undulating building facade is strange, but it looks almost like the Pueblo canyons, full of their clay homes. There's something almost disturbingly organic about the design, though, especially in the iron-framed glass doors. I can say they're interesting and a must-see from a traveler's standpoint, just for the oddness of them, but I can't say I like them!
Still, La Pedrera is nothing compared to the monumentally bizarre monument that is La Sagrada Familia.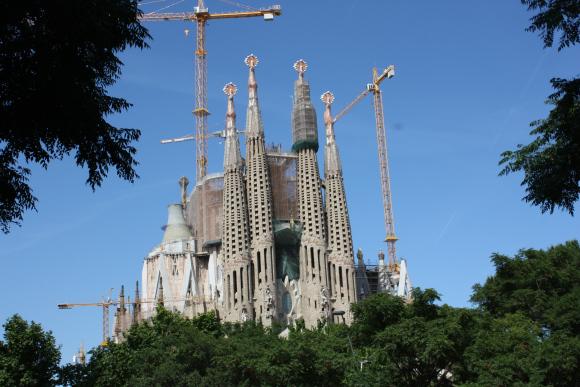 The Basilica i Temple Expiatori de la Sagrada Familia in full is an enormous Catholic church. It was Gaudi's last work and though he died when it was only about a quarter of the way through, it's considered by some his magnum opus and it's generally regarded as the symbol of Barcelona. And I can honestly say that it is the weirdest looking building I have ever seen.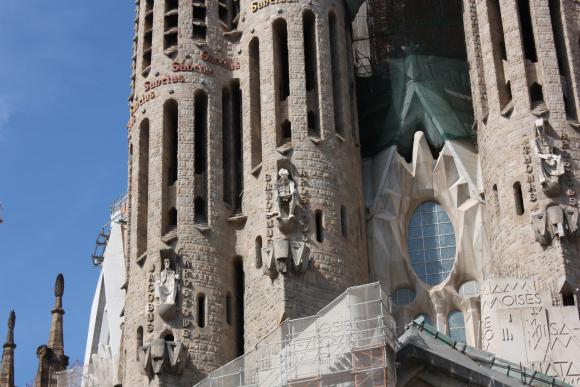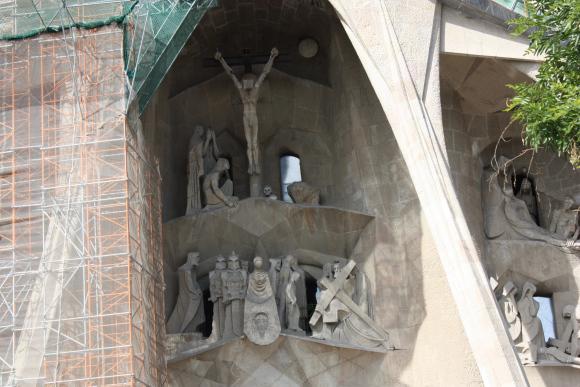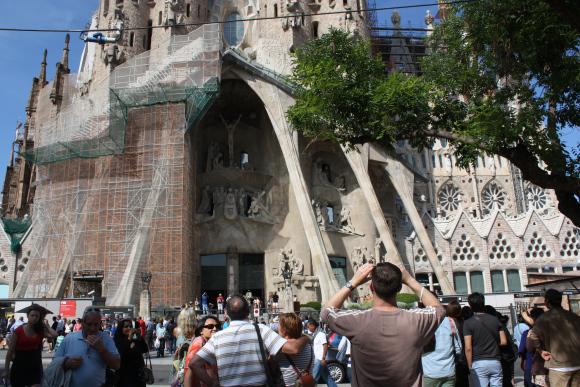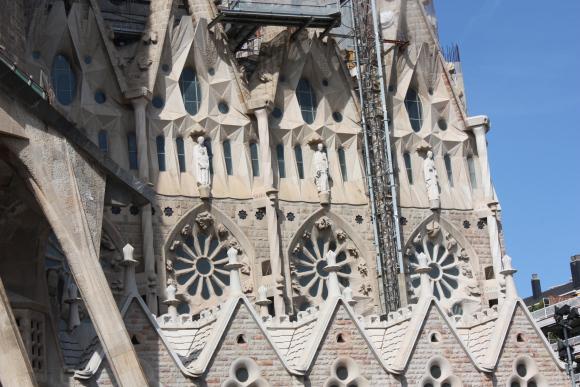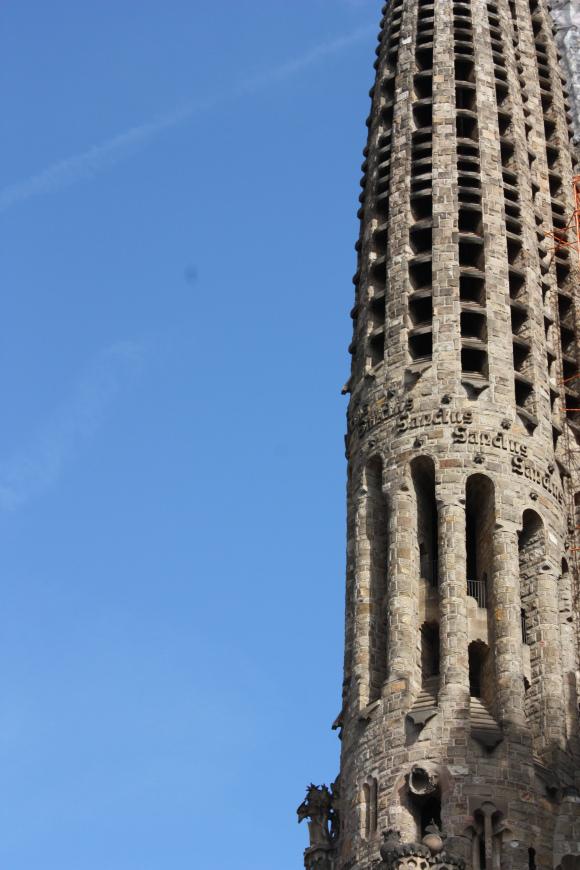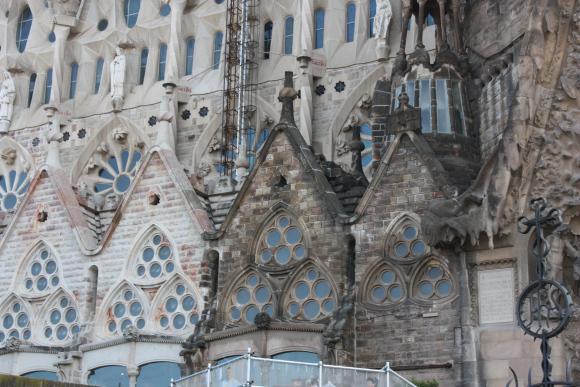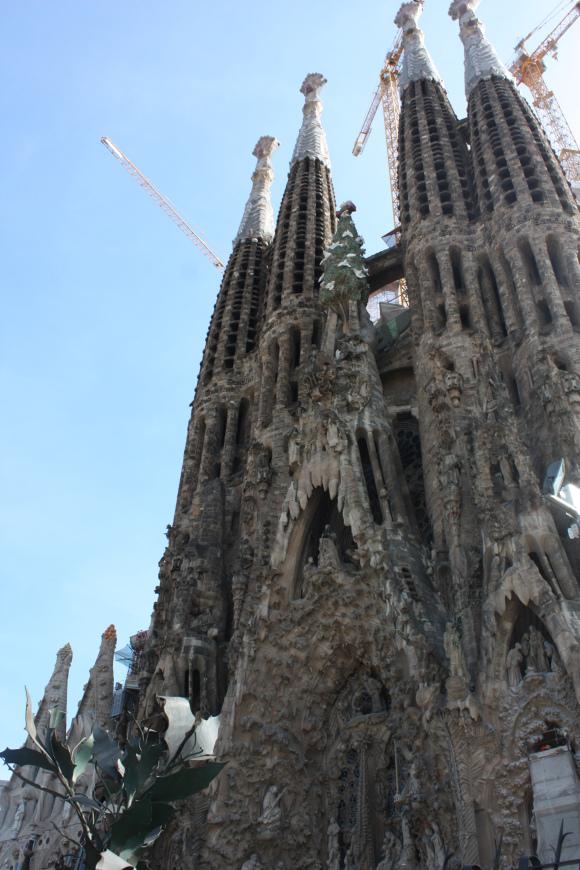 Again, there's something almost organic about the way the stone is carved and the designs rendered here. It's as if some living entity were stretched out over the stone and then petrified. Just looking at it creeps me out, and I know that's not what it's expected to do and maybe it makes me a total Philistine when it comes to art, but hey, there it is. Just to prove it, here's a downright creepy picture: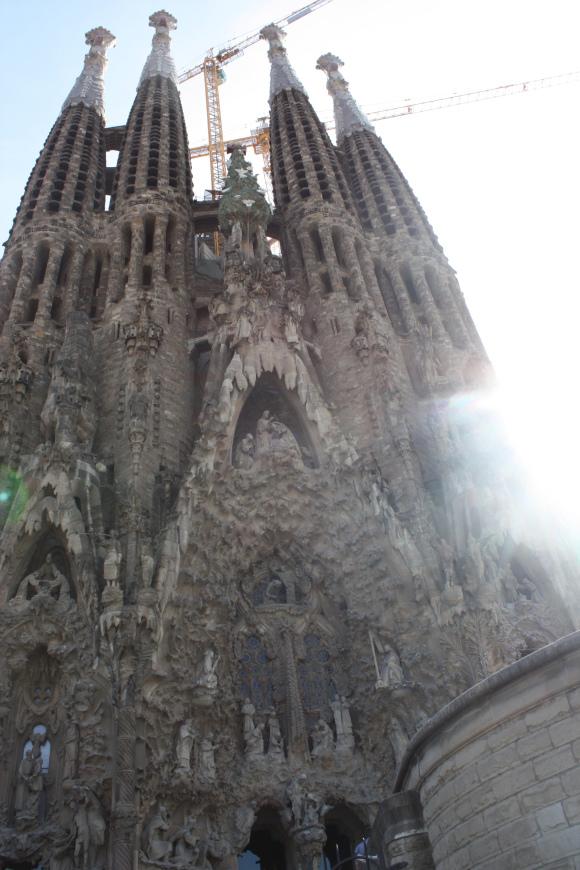 That, my friends, is one of the reasons I travel. Because no matter how good the photos are, no matter how the narrative goes, no matter how many times I tell you the stories, there's nothing that compares with looking at something so very different and other with your own eyes. Not only was this structure crafted in an artist's mind, he actually found a way to bring it about.
If we manage to get back to Barcelona, I do want to see it by night. From what I've heard, it's completely illuminated and looks as it's supposed to – like eighteen melting pillar candles on the altar, inscribed with scenes from the nativity, the passion, and the glory.
Hope you're enjoying my virtual tour of Barcelona! I've got one more mini-tour to go before I take you with us on the Eurail to Paris for a whirlwind tour of the City of Lights and a little look into Disneyland Paris! Have a great day – and beware of strange architecture.
KCS
If you want more posts on Barcelona:
Hola from Barcelona | The City Garden | The Waterfront | The Gothic Quarter | Gaudi's Architecture | The Funicular Railway and Montjuic (coming soon!)