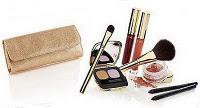 While I must apologize for being away from my blog for so long, (I've been ill) I'm back and with a gorgeous makeup kit from Bare Escentuals! This beautiful kit for the holidays helped put a smile on my face and QUITE LITERALLY, a twinkle in my eye.
This is the Bare Luxury Kit from Bare Escentuals and it's the first of 4 of these beauties to be delivered over the next year on auto-delivery from the Q. Get in on the goods here.
The kit contains:
A limited edition new Ready Eyeshadow Duo called The Phenomenon. Appropriately anointed because it IS phenomenal indeed. I've used the Azure Iris several times since my kit arrived. This eyeshadow said to illuminate and highlight shades of amber in the iris of the eye, does perform magic. I wore this shade alone with the new eyeliner (below) and mascara. The results....I could seriously have passed for a member of the Cullen Family!!! I saw beautiful flecks of golden amber in my eyes. My eyes were somehow transformed from plain Jane brown to warm, golden brown. EYEEEE-MAZINGGGG!!!!
Rose Gold Radiance. I cannot say enough about Radiances in any shade. Radiances are one of those "don't leave home without one" kinda makeup items. Radiances give the skin a sweet glow, like a soft lit-from-within glow, pop some on your cheekbones for a beautiful highlight or anywhere you want to glow.
Two new Round the Clock Waterproof Eyeliner Pencils. 10 pm is a burnished mocha color and Noon is a deep deep navy. So what's new about these eyeliners and why are they my new faves? They are creamier and easier to glide over the lashline. They last and last even through a watery eye. No, they do not automatically sharpen, you will need a sharpener but for me that's a small price to pay for the way they handle. Psssttt, isn't it cute how they're named after times, last longer and are called Round the Clock??? haha
Two new Marvelous Moxie Lip Glosses. These tubes of newness are beyond fabulous. They are lip plumpers but unlike their predecessors, the Buxoms, they tingle softly with a hint of mint and vanilla flavors for those who felt the Buxoms packed a little too much punch. They are gorgeously creamy, luxurious on the lips. Dare I say, even the new applicator is wonderful; slanted and pliable, making application quick and flawless. These glosses combine the best of Buxom and 100% Natural glosses. In this kit you get Wild One, a peachy sheen and Daredevil, a berry sorbet shade.
Full Tapered Shadow Brush with a gold handle.
Flawless Face Brush with a gold handle.
And the cutest, perfect for a Holiday party, gold, sparkly clutch bag ever! The clutch is so well made and stylish for the holidays, heck any day is perfect for this bag. Too much fun to keep it for holidays only. Definitely a winner.
Can't wait to see what the future deliveries hold in store!!