Barfi !   is magical but deeply flawed…
Barfi! is a well-crafted script with an intriguing back-and-forth narrative but it all goes south towards the end…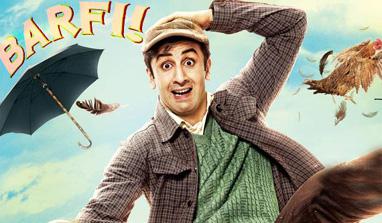 How well it is said that true love is blind to all the prejudices set down by the materialistic society. It can nourish itself deeply even in the midst of penury and follow a completely no-holds-barred course. Anurag Basu's 'Barfi' is just about that. 'Barfi!' narrates the story of the namesake character Barfi (originally named as Murphy by his parents) who has a speech and hearing impairment and lives every single day of his life to the hilt and how!
South Indian actress Illeana D'Cruz gets into the skin of her character named Shruti to tell the magical tale of Barfi (played by Ranbir Kapoor) who happens to be a happy-go-lucky character that lives with his aging father in Darjeeling of 1970s. Barfi is endearing for his cute Chaplin-meets-Mr. Bean acts but more than that for his innocent and simple heart. In a typical rich girl meets a poor guy story, Barfi chances upon Shruti on her visit to Darjeeling and she finds herself losing her heart to him despite the fact that she is engaged to a wealthy man back in Kolkata. After a brief romance, Shruti chooses material comforts over true love and leaves Barfi heartbroken to marry the moneyed man.
Enter an autistic Jhilmil Chatterjee (played by Priyanka Chopra), who belongs to an affluent family in Darjeeling but her family barely cares for her sensitive needs. Even as Barfi tries to pick up the pieces of his broken heart, he finds his father battling kidney failure. Penniless Barfi looks for all ways to get the money for his treatment but in vain. When left with no other way, quite unwillingly, Barfi plans with his best friend to kidnap Jhilmil and blackmail her parents for the money. And then, as the story unfolds, Barfi and Jhilmil realize that they are perfect to share their life with each other, keeping their physical imperfections aside. On the other hand, even after 6 years of marriage, Shruti comes to know that she still has strong feelings for Barfi.
Ranbir Kapoor delivers an award-winning performance. After lapping up awards last season with his role in 'Rockstar', Ranbir easily slips into the role of Barfi and leaves the audience speechless. Barfi's character reiterates an important lesson- that life is about finding happiness in small things rather than in being wasted in lusty pursuits. Priyanka Chopra does her autistic act with finesse without going overboard and Bollywood newbie Illeana D'Cruz fares well as a girl battling societal norms, her own wishes and finally, her beloved's happiness. In fact, one can't decide who the shining star of the film is- Ranbir for his hilarious cute act or Priyanka as the autistic Jhilmil who yearns to be considered as a woman.
The story moves back and forth from 1978, 1972 and 2012 in an easy-to-follow fashion and the film's songs are simply soulful. Cinematographer Ravi Varman captures the picturesque North Bengal in a splendid way. Each frame seems like a beautiful painting.
All in all, Anurag Basu's 'Barfi!' is a perfect sweet treat for his audience. Like it has been discussed, those film makers who have been portraying the handicapped as dull and boring in their films must take a lesson from 'Barfi!'. Go and savour it!
Rating:  Five cheers to this one !  \\m/