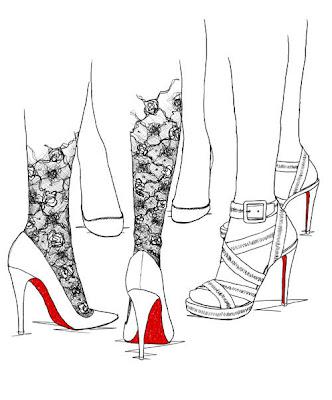 Illustration by Garance Dore.
...completely and totally insane. As usual, Paris Fashion Week was a flurry of early showroom call times, sore and crusty feet (once again, I was wearing flats! How was this possible?), sleep deprivation masked with copious amounts of espresso, and grouchy models who didn't hide their aversion to working.
In all fairness, the models this season were much easier than they were last. Last season was just impossible where at one point I had one girl tell me to shut the eff up while another refused to get dressed because she adamant that the garments were made in a sweatshop in her home country, despite the "Made in Italy" tag. I thought I was going to lose my mind. I felt like I was babysitting these little girls, bargaining with them just to do their job. This year though, they were a bit nicer but a lot crazier.
Walking into the cabine where the looks are styled on the models really is a scene right out of any fashion movie. The scene is set with exquisitely detailed crepe de chine gowns, delicate organza tops in soft pastels, and triple chiffon layered skirts in hues of blush and cream are casually draped over chairs and garment racks. Aloof models wearing nothing but nude-colored g-strings and ten-inch heels, curled up on folding chairs reading their iPads, waiting for the next look to be ready. Associates frantically charging in and out of the room carrying stacks of garments requesting looks fashioned after the runway show. While nothing really shocks me anymore - especially during fashion week - a few things stood out. 
One being that one of the models had a belly ring. First off, I must be old and out of the loop because I didn't think girls still had them, I thought that fad went out with pubic-bone bearing hip-huggers and Kevin Federline media attention. Her belly ring sort of became the theme of the week for me because it was impossible not to notice it. The shape of the bulky double ball ring showed through some of the more form-fitting looks, taking the focus on the garment. But what really stood out about this ring in particular, wasn't so much that she was flashing back to 1999 (perhaps paying homage?) as it was the jewel itself that had me wondering. The "jewel" was a large acid yellow ceramic ball that read in bold black letters: SEX.
Okay, really, who walks into a shop, sees this and deems it an absolute must-have? After two days I just had to inquire, I needed to get to the psychology of her purchase and I bluntly asked her why she had chosen that style. With a shrug, she turned to me and in her Eastern European accent said, "I was in shop with my boyfriend and he sees, and he say I like sex, so we buy." And with that she sauntered off. In her nude thong.

I guess people really will buy anything.
Another model somehow got chatting with the president of the company who was passing through the showroom and boorishly shared with her what she thought was a humorous story about an event that took place in the bathroom involving another model, an explosion of some sort and too many laxatives. She illustrated the graphic story with gestures dramatizing the scenario. I simply couldn't let this moment pass, so I hid behind a near-by garment rack, peaking out between two dresses to witness the disaster that was happening. The president, an elegant woman with a sharp and witty sense of humor, politely listened to the model's story before finally cutting her off. "Do you really think I'm the right audience for this story?" she finally said to her. The model stared at her blankly, processed the question and walked off. And just for the record, this time, not in a nude thong.
We had the Linda Blair-zombie model who walked like she was dead. Really, she looked dead. With a wide-eyed terrified expression on her face, she walked through the showroom centimeter by painful centimeter which would take her a full twenty minutes to make one round as other models dusting passed her. My boss shared with me that this particular model's eyes would follow her as she made her round, and would occasionally look back at her before returning to the cabine, giving my boss the impression that her had was going to do a full 365 turn. She didn't make it through the week and was replaced by the sweetest girl from Holland who looked like a little doll. She curtsied and smiled after presenting each look. I liked her a lot.
After fawning over the week's best collections, the second most entertaining part of the week is observing the models and all of their little idiosyncrasies. Because most of them grew up in these settings where they've had to develop their personalities around professionals in showrooms, runway shows and are cramped in model apartments that have little to no supervision, you're bound to get a nut or two, but really, look who's talking?
It was a great week, I went to some fun parties, and I'm looking forward to next season. Until next time, Paris Fashion Week....