This is my first blogger award and I am very honored! The lovely Yik-Yan [Life Through A Number of Lenses] awarded me it.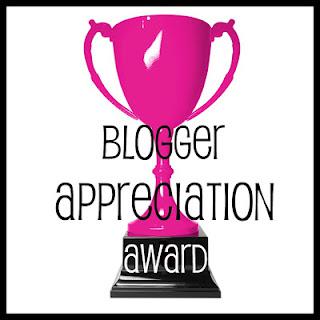 The rules of the Award:

1. Thank the person who gave you the award with their blog link on your post.2. Answer the following 4 questions.3. Award the Blogger Appreciation Award to as many readers/commenters/supporters/followers as you'd like.4. Let the blogger know you've just awarded them (by leaving a comment, a tweet, an email, etc.)

The questions:

1. How long have you been blogging?2. What are 1-2 reasons why you started blogging.3. What types of blogs do you like to follow/read?4. What is 1 thing you would like to improve on as a blogger/on your blog?*****************************************************
1) I blogged a little about 4 years ago, but never got into it at the time so I pushed it to the back burner and tried blogging again just a few months ago. 
2) I wanted people to know who was behind the art and I wanted to say more than 140 characters. I also wanted to get to know other creative and interesting people. Blogging has connected me with great people!
3) I like to follow other artists and I enjoy fashion blogs. 
4) Oh there are too many things to improve/change/revise... I try not to think about it!! 


The envelope please! And the Blogger Appreciation Award goes to [in no particular order]:
Miss Bessie [Bravoe Runway]Miss Lori [A Little Slice of Special]Miss Meanz [Koi Story]Miss Rebecca [oomph]Miss Jayme [RAWR creatures]
Congratulations ladies!! Enjoy the rest of your weekend.