Howdy folks.  This month of August was the #BloggersDoAnimalPrints - the challenge set by @Fbloggers on Twitter.  
I decided to do a Leopard Print eyeshadow eye makeup look, as it's something I've NEVER ventured into before.  I have also NEVER used false eyelashes before so it was a double whammy for me!
Here is the look I came up with.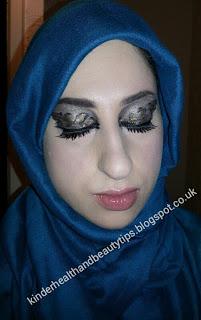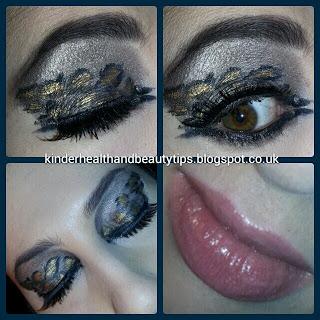 Products used:
Bourjois Flower Perfection Foundation in Beige
Bourjois Healthy Balance powder in vanilla
Bourjois Cream Blush in Rose Tender
MAC Soft Ochre Paint Pot
Topshop Metallic Silver Eyeshadow stick
TopShop Metallic Gold Eyeshadow stick
Bourjois Liner Feutre in black
Urban Decay Pencil Kohl in Perversion black
Active Cosmetics false eyelashes
L'ancome Lip Pencil in Rose Rose
Revlon Lip Butter in Creme Brulee
Sally Hansen Plumping Lip Gloss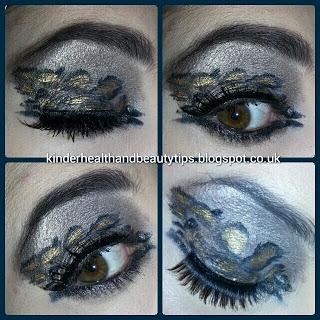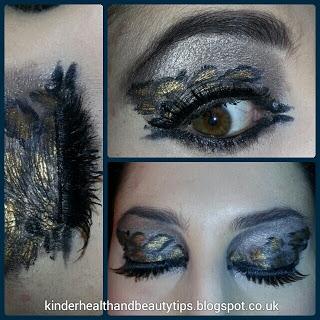 How to:
1) Apply foundation, powder, and blusher and/or bronzer.
2) Apply an eyeshadow primer all over the eyelids upto your eyebrows.  You can use any eyeshadow primer, but I used MAC's Paint Pot in Soft Ochre.  Although it's not a primer, it really intensifies eyeshadow colours so I used it for this purpose.
3) Apply a metallic Silver Eyeshadow stick all over the eyelid upto the brow bone.  Extend it slightly under the eye too.
4) Using a felt-tip eyeliner pen, draw some animal print designs on your eyelid.  Don't be too perfect, just do some c and o shapes all over your lid.
5) Using the gold metallic eyeshadow stick fill in these animal print designs.
6) Using the felt-tip eyeliner pen, line your top and bottom lash line, extending the line at the inner and outer corner of the eyes to get the "cat eye" look.
7) Line your water line with the black kohl pencil.
8) Apply false eyelashes and mascara.
9) As the focus is on the eyes, pair it with a nude lip.
10) You're looking PURRRRFECT! ♥
It was fun creating this look I really enjoyed it!  Have you tried an animal print makeup look yet?