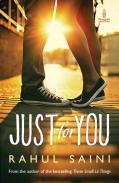 Title- Just for You
Author- Rahul Saini
Pages- 245
Publisher- Penguin Metro Reads
Genre- Fiction
** I received the book from author for review**
---
RATINGS-
Cover- 4/5
Blurb- 3.5/5
Writing style- 4/5
Overall- 4/5
---
BLURB-
When you love someone, what's there to prove? EVERYTHING!
EVERYTHING!
It looks like life is teaching Rohit a lesson. His publishing deals, his relationships, even his job- nothing seems to be working out. To make matters worse, Karun is still trying his best to ruin his reputation as a writer. But when Nisha leaves him, it's the ultimate blow.
To win her back Rohit must prove he loves her enough to do things that matter to her. As Rohit takes control of his life, he begins to find things slowly changing.
But will Nisha be happy with that? Will she come back to him? Just for You is an adorable, bittersweet story about love and its responsibilities.____________
---
REVIEW-
The story revolves around Rohit ( the protagonist) who himself is an author. On the other hand, another young author Karun finds ways through which he can destroy Rohit. While Rohit deals with Karun, the situation gets worse and Nisha; his girlfriend leaves him. Despite being Rohit's efforts , the duo did not get back together. The story deals with the journey of Rohit and how he handles all these problems created by his rivals.
Positives about the book– The writing style is extremely simple ,  easily understandable. Storyline and plot are also distinguishable. The book contains suffice amount of whimsical sense of humor that keeps the reader engrossed. Moreover, the author has shown the negative side of the literary industry that how one author is more interested in ruining other author's career rather than focussing on his work. The author very cleverly has spoken truth keeping in mind the correct use of language. As the story progresses and when Nisha leaves Rohit, the story takes its grip. How Rohit deals with everything is interesting. Characterization is wonderful. Overall, it is a good one.
Negatives of the book– As the title depicts, " Just for You", it gives the feeling of a love story but the romance part was missing. Although there were an adequate amount of romantic shots, however,  more chemistry between Rohit and Nisha should be told. Moreover, the number of characters should be less to make in order to make the story much clear. The presence of a lot of characters sometimes confuses the reader because the story is being narrated  in the first person. Rest there are no backdrops.
Everything is Perfect..!!!
---
Pizza Paramour says–  All those who use less oregano and chilly flakes in their pizza, this book is for you people with free cheese ( humor).  Light-hearted, delightful and humorous read . The shots of humor will surely make you smirk.
Filed under: Book Reviews, Uncategorized Tagged: BOOKREVIEW, delightful, humourous, intriguing, justforyou, lighthearted, rahulsaini, smirky