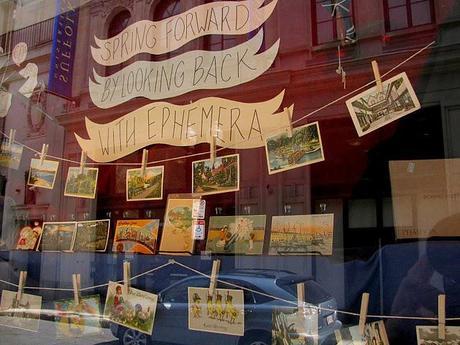 when we first arrived in boston last week, we drove past an outdoor bookshop set up in an alleyway. we didn't have time to inspect it since we were checking out a nearby college and our time was limited. we promised ian we would go back the next day. little did I know we would find they also had an indoor bookshop right next door by the name of brattle. what caught my eye was the window display of vintage postcards and a lovely handmade banner you can see in the above photo. I immediately thought of christine from over at

'

the daily postcard

'

, I knew she would  like this. I love seeing the different antique postcards christine posts, but the thing I love most about her site is that she always posts the back of each card where sometimes there is a handwritten note on the back. christine describes it best in her profile where she writes, " I love antique postcards because they preserve evidence of everyday life as well as celebrations and sad events. Looking at an old postcard is like holding a single piece of a puzzle; we have to imagine the rest."
below is a photo of the outdoor brattle bookshop and then another photo of who I think might be george washington (just past the woman's head with the dreads) perusing the used books.
i

f you'd like to see more reflections or add your own to the mix, please check out james of

newtown area photo's

wonderful 'weekend reflections' meme. thanks James!