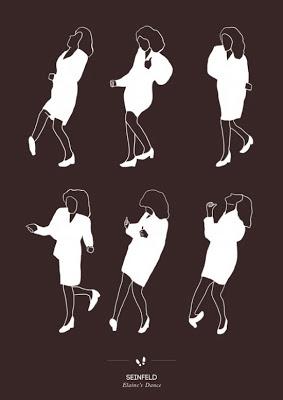 illustration via dancing plague of 1518.
S.O.S! Calling out to the blogosphere in a state of emergency! A dance emergency!
We're on final countdown for the wedding as we wrap up all the little details, which means the time has come to finalize the playlists for the wedding. The setlists for the vin d'honneur and dinner have been completed with an assortment of easy, breezy tracks that will lend to the spring garden party atmosphere. Think Feist, François and the Atlas, Nouvelle Vague, The Kinks. The dance setlist though is still pretty lacking. The setback is mostly due to the fact that I have really cheesy taste in dance music. And no, not in that ironic hipster kind of way. I truly think Motown Philly is one of the greatest songs of our time. Get a few cocktails in me and it won't be long before this nana is out there partying like it's 1991. If you ask me, the roger rabbit/running man combo dance move never went out of style. As for Aurelien, if it was all up to him, we would be rocking out only to LCD Soundsystem and Peaches (Seriously. My mother's face when this song comes on - I'll let you guys know). So we need to balance it out a little and this is where I need you guys! Help us build our playlist!
Any dance suggestions would be greatly appreciated. Even if it seems obvious, share it. Remember three words: Boyz II Men. I need help here!
I hope you all had a lovely weekend!