Not only does this piece of art here match with the theme of my poem, but there's something special about it for me. As I searched for suitable images, I came upon THIS one. And this is the one scene that has been painted beautifully by my mom and aunt. Voila! Takes me back to the acrylic-paint-scented days!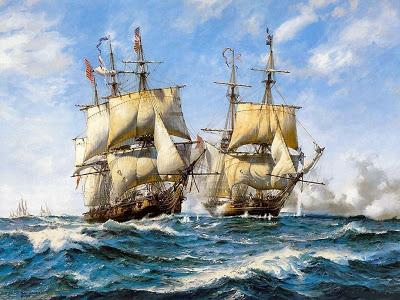 "If it doesn't challenge you, it won't change you."
Men in orthodox societies live with their parentsMarried, with their wives and children:It's tradition!   Yet there are born a unique few   Who flee their homes at the age of twenty-two.At the ripe age of twenty-two!
   And then there are instances of   Men in some other world (terrestrially),Where traditionally,Boys 18+ are expected to live alone;   Those few pledge to never leave home.Pledge to never leave home.
...
People who've sought to win battlesAll their lives. Now   Find the three-eyed crow   And lead themselves to abandon their comfort in kill   Instead, end up in meditation, all spiritual.Turn up all spiritual.
And spiritual sages who   Now need the kill   To their heart's fillWill retire their lifelong blissfulness   To a battle ground, on slippery bloody carcassOn to bloody, slippery carcass.
...
And now and then you findAll sorts of people clouded, mystifiedWho purposefully ruin their livesKeep on walking the same path- their dutyAnd do not seek their mind's refugee.Do not seek mind's refugee.
Surround yourselves with them-(Strive to be a part of them-), they who unwind-Act on a moment's change of their mindChange their paths, choose their own destinyUnfearful, they are the heroes otherwordly.They're the heroes otherwordly!
The other-world (the part of the brain) where inDoubts and horrors grow dimAnd these heroes uproot the villainOf clouded introspectionAnd leave the world (and you) in resurrection.They leave you in resurrection.
So that there be no hesitationOnce all around, and then there were none.And then there were none.