Deepika Padukone is the star of the film, but Diana Penty also impresses in her debut. Saif Ali Khan is his usual cool self..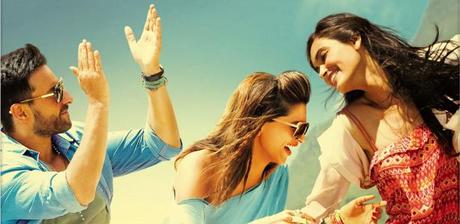 It was only to be expected. From the promos of the film, Cocktail could only have been a slice-of-urban-life kind of framework for trendy fashion, trendy music (which we have already reviewed), trendy dialogue and, of course, trendy attitude. And with stars like Deepika Padukone and Saif Ali Khan playing main leads, everything will be very citified and slick. And yes, Diana Penty, she of the long, invincible hair we know through ads, will very likely be a worthy next-gen for the genre.
The story – and surprisingly, there is something of one – is not too unreal for anyone who is fairly wealthy, well travelled and so-called liberal. Three people share a flat in London and work out dynamics of co-existence. Veronica, played astonishingly true-to-life by Deepika, has a casual on-off relationship with Saif, who is perhaps getting rather too mature for silly shenanigans, but does the urban-slick thing so well. Into this comfortable relationship, which smells ever so gently of the Mila Kunis-Justin Timberlake movie Friends With Benefits, comes the far more staid and shy Meera, a role nicely nuanced in parts by Diana. And the equations – as they always do – change, swing, wander about with lots of madness, liberal amount of laughter and some emotional hoo-ha thrown in.
The first half, light and frothy for the most part, is fun, while the second half gets maudlin and laboured more than it needs to. There are fabulous moments, as when Deepika is asked to keep her knees together by Boman Irani and when Saif's hormones go a-raging and he is cheerfully snubbed by his girl; and then there are rona-dhona moments when all you want to do is go find the popcorn counter outside. Does it end with a happily-ever-after scene? Watch it to find out.
What is impressive is the wonderfully natural interaction and affection between the two girls. Diana has shades of Deepika as she was in her first film, Om Shanti Om, slightly awkward, obviously not quite sure of her acting skills or her camera angles, but with potential to become far more adept at the art. Both models, they know how to look good, in simple salwar kameez or a lethal red bikini ! Saif is his cool, swaggering, dry-wit-spouting self, not too big a stretch from his natural personality, wethinks. The star of this show is Deepika, who not only looks ravishing, but is entirely convincing as a neglected wild child of rich parents. We sure like!
As for the film – very nice, very easy on the eye and ear and a lot of the time, very fun.