Dr Organic and Premier Model Management have joined forces to search for a new face to represent Dr Organic.  They are searching for a natural beauty....could YOU be the face?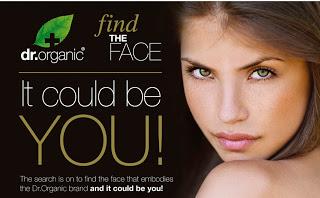 Dr Organic are a lovely organic beauty cosmetics brand,  which use all body-friendly ingredients.   That means there are no harsh detergents,  no SLS, no fragrance, no parabens or any other harsh ingredients which you normally find in commercial brands.  Their products can be found in your local Holland & Barrett's store and online the Dr Organic website.
They are searching for "a face that embodies the Dr Organic Brand;  confident, healthy and naturally beautiful, inside and out.  A 'real' woman that is passionate about natural beauty."
Enter the competition here if you think you could just be the face, or you know someone who could.  Applicants need to be over the age of 18 to apply, and you need to submit two color photographs of your face and full-length of your body, and then write a bit about yourself and why you think you are suitable to be the face of Dr Organic.  Simples!
The winner of the competition will receive a glossy photoshoot, a luxury weekend for two and the opportunity to win a modelling contract with Premier Model Management.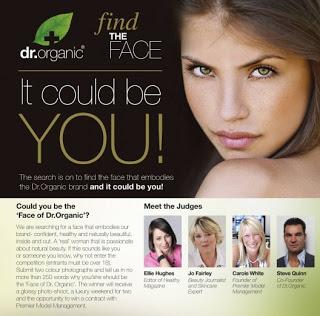 Closing date for applicants is 14th October 2013.  Good luck with your entry!  May the best face win.