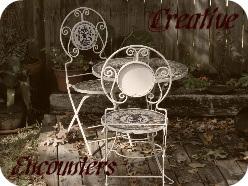 Today I have a lady who not only writes an awesome blog, but who also has an interesting job that I would love to do if my state's museum actually in need of someone right now for such things. Kristen is a museum curator who writes for exhibits, articles, and other academic topics. Grab your favorite cup of coffee (Pumpkin Spice, anyone?), curl up on the couch (or your office chair), and get to know Kristen!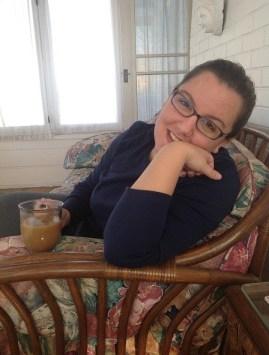 How did you get into curating for a museum? 
I work for a preservation organization that among its many functions, has two museum properties- a historic house museum and a furniture museum (that is in a restored historic house) – so is history and art focus! I wanted to work in museums because I love history and art- when I found out I could do both working in museums, I was overjoyed. I have a curious mind and I love to do research and write, which are both really well suited for a museum setting. I don't have one area of specialty like many curators in the more traditional art museum, but like to call myself a "professional generalist."
Do you find it influences what you decide to write about and your style of writing?
I think being a curator at my current museum, which has a diverse collection of textiles, decorative arts, fine art, and furniture, has influenced how diverse my own personal writing has developed into. My academic background is in American Studies and public humanities, so I have always sort of written with broad concepts in mind. The biggest influence on my writing with being a curator is learning how to best describe and explain something without taking up too much word space.
Most museum visitors don't read every word on the wall (I'm guilty of this too- even as a museum person!), so there really is a unique writing challenge to be brief but effective from everything like introductory text to the smallest photo captions. Writing for a museum also takes a bit of the academic OUT of me- the verbose, big words I would use have to go (exhibit text needs to be at about a middle school reading level) and also makes me more creative- how else can I describe the construction of a piece or the point of a view of an artist without sounding boring?
You write for work, on your blog, and for your own personal projects. Do you ever get overwhelmed by all the writing or do you find it helps you to be enmeshed in the act of writing most of the time?
Writing and I have had a funny relationship over the years. As a voracious reader, I love words and for as long as I can remember, I was writing short stories and making plans to write novels. Somewhere along the line in school, I became very discouraged by my creative and academic writing, spending more time getting my own words out in my personal journal. In college, I was encouraged by professors who believed in me and my abilities, pushed me to extend myself, and gave me the tools I needed to understand not only the mechanics of writing better, but how to craft an awesome story ( something I use still to this day as I write for exhibits!) Now that I am writing every day for some purpose, I find that I spend far less time journaling.
That makes me sad since my journal is the place where I really can just brain dump it all out — work, life, feelings. I think I've been writing there less not just because my brain is just spent after a day of work, but also because I'm worried I'll capture some greatness in those pages that I won't be able to replicate in the public realms when I need to. It's funny — I read a lot about writing (Anne Lamott, Stephen King) and about the various processes they have, and I know that if I had a somewhat disciplined personal system for my own writing outside of work, I'd probably be more productive and happy with the results, but for whatever reason (probably laziness and procrastination), I haven't really done that yet.
Are you happy as a museum curator or have you thought about changing careers? If you were to go into another career, what would you want to do?
When I was in college, I was in the career center director's office and she had a sign "do what makes your heart sing." In every career decision I've made, I've tried to do that and I can honestly say I love the work I do. I feel it is a privilege to be the 'keeper' of history and knowledge and to try to find interesting and engaging ways to present that to the public. That definitely is something that I want to be doing for a while, but it might not be just in the realm of being a museum curator. I'm very interested in documentaries and when I was starting college, I thought that was something I'd go into — more on the research and development end, less on the film editing stuff. I do fantasize about being a full-time writer and writing historical fiction novels, so that may be a spot I end up. I may not always be a museum curator, but I definitely think staying in the humanities/history field is where I belong, because it is what I enjoy the most.
What does a typical day at the museum entail?
No two days are alike, which is what is great about this job! For me, I sort of have a seasonal schedule because both of our museum properties are only open April through November (seasonal tourist town!) Because I work mostly behind the scenes in research and developing exhibits, my May-September are fairly un-frantic days where I do research and writing for the next year's annual exhibit at our historic house property.
I do research on objects we have in the collection already, keep on top of auction offerings that might be of interest to the collection or give us some better knowledge of what we already have, and answer questions from tour guides or visitors. In my off season I also try to do a few projects related to the collections organization or our database — making sure we have updated photographs, doing an inventory on a storage vault, etc. My busy season is October through April, when I am actively developing the exhibit, working on edits, designs with our exhibit designer, coordinating conservation projects, installing the exhibit, and generally freaking out about the looming opening date in April.
What do you love most about working there?
It truly is a privilege to be able to work with the collections at our museums. We have world class pieces of 17th century Newport, RI made furniture that is just a piece of art in and of itself to helping rehang a Renoir portrait. It is quite the treat to be among such amazing pieces. I love being able to spend days upon days on a research question or trying to match a photograph to clothing in our collection. The days I find an answer to a long standing mystery really make me so happy and are the reasons I wanted to work in history. I also have some of the most awesome coworkers in the world who have become close friends to me. I really hit the jackpot with that. And, of course, I work in one of the most beautiful places in Rhode Island, and while my office doesn't have an ocean view, the break room does!
You mentioned finding a new love in painting. What drew you to the art?
I had been looking for a creative outlet for a long time and am not a super crafty person. I had tried my hand at knitting and counted cross stitch a few times, but both required a bit too much of my concentration. I had never really considered painting before, because I never thought anything I did was very good. My coworker Liz asked me to join her for her 30th birthday in September for a day of painting outside at a museum in Connecticut.
Whether it was the gorgeous setting or just the great company, I absolutely fell in love with the whole thing. After that, I went out and bought a paint set, but ever the procrastinator, I hadn't done anything with it. About a month or so ago, Liz and another work friend went with me to a 'Drink and Dabble' painting class — painting a famous picture while drinking wine. While the wine certainly helped, it was really fun and I was very surprised at how much like the original mine was. I was more surprised by how many people complimented it, especially touched by my Dad, who is an artist, who said he was very impressed. I've since done two or three small things at home and even though the outcomes were more of a mishmash of things, the process was incredibly soothing and enjoyable to me.
Lastly, what is one thing curating has taught you about creating things — whether it be paintings, stories, gardens, etc.?
Being a curator really has made me think a lot about how things are put together. It is almost never by accident that a group of objects, bushes, etc. comes together. Everything has a degree of thought and creativity put into it. Being a curator made me realize that I am a creative person, something I did not think I was before, because I was not creating gorgeous masterpieces of art.
Realizing that and knowing that creativity is not defined by art but by the process of thinking carefully and having a vision, helped me think differently about a lot of different aspects of life, too. Like with my house — I was struggling for so long with decorating it, and honestly, making it out to be this big deal, when really it's only deciding what pretty thing to put on the mantel. Being creative doesn't have to be a huge production of something that is sold on Etsy or is put on the wall of a museum. It really is just the gathering of your thoughts and ideas in a certain way, whether it be in a story, a Pinterest board, or in a painting.