That perhaps is one of the hardest letters to write to a conservative Indian parent.
Fears of loss, hatred, marginalization and pain accompany the decision to call a parent one knows is not going to accept their choice. Tremendous courage and hope for understanding and failing that, reconciliation is the only thing that can help mitigate the fear of telling this parent that one is staying with one's partner outside of marriage.
Here is one such letter from a hopeful son to his father.
Dad,
You must be surprised that I wrote you a letter but believe me, in this case, it was the only way I could sufficiently put down everything I want to tell you. The telephone, the tone of voice, the emotion; it all is too much of a distraction.
I'm in love with a magnificent woman named Anna and we're in a live-in relationship. We have been so for a month now.
This must come as a shock to you as I haven't said anything about her or us till now. But there is a reason for that. I don't know if you're angry or sad or disappointed in me but I must still shamefully ask you to trust in me.
I know that you and mom brought me up believing in the sacred bond of marriage and you must feel that you could have done something more, especially after this letter. Please don't, it isn't your fault, it is just my choice.
I love her and she loves me and we have done so for over three years now but mom only knows her as one of my friends. She turned out to be something much more and I see her as my partner for the rest of my life. Perhaps we shall also marry one day but that day isn't today or tomorrow or at least in the next five years
.That day might also never come.
It isn't the fault of education or this big city or bad influence that has led me here, it is the realization of what is good for Anna and me and how we want to live our lives, at least for the moment, without societal shackles till we are absolutely sure than we can bear each other for a lifetime.
I ask not for forgiveness or acceptance, I ask only for your understanding of the choice that I have made and am about to in the future. I need you to have my back, Dad.
Your loving son,
Fred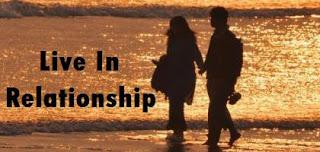 Image Courtesy: nrigujarati.co.in