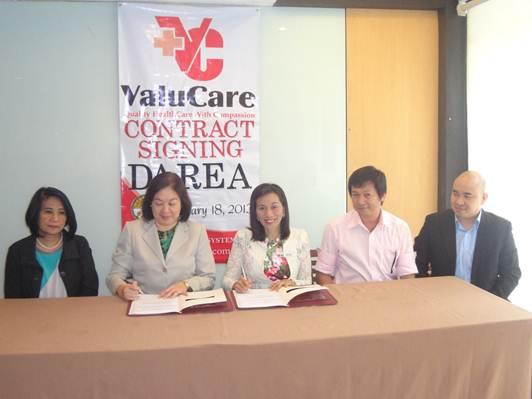 March 2013, Pasig City – In line with ValuCare's recent presentation of the company's milestones and proclamation, "ValuCare is the healthcare you can count on", is another announcement of partnership with the Department of Agrarian Reform Employment Association (DAREA).

Value Care Health System Inc.passes the criteria set forth by the DAREA as they sealed client-HMO relationship to cover their member's healthcare needs.




"DAREA Members are now assured that their healthcare requirements will be provided and delivered to them at the time when it is truly needed, said Ms. Rosemarie Yu of ValuCare.




This partnership between DAREA and ValuCare covers In, and Out Patient Services, Preventive Health, Emergency Care, Dental and Financial Assistance, she adds.




Choosing the right HMO is a choice of the one that you can count on when the need arises.  And the various product enhancements that ValuCare offers make it an attractive choice.




ValuCare is established in 1997, has a solid track record in terms of providing affordable and adequate healthcare to its growing plan holders.  Its steady growth over the years has been guided by its vision of providing quality healthcare with compassion.




About Value Care Health Systems Inc.


ValuCare is a Managed Care Company belonging to the Health Maintenance Organization (HMO) industry.  Established by a select group of medical practitioners, ValuCare's commitment is to provide its members quality healthcare you can count on through a comprehensive out-patient consultation and hospitalization benefits package accessed via its network of health care providers and facilities.  For more information visit its website at

www.valuecare.com.ph

or call its 24-hour service hotline at

0917-7-WECARE.