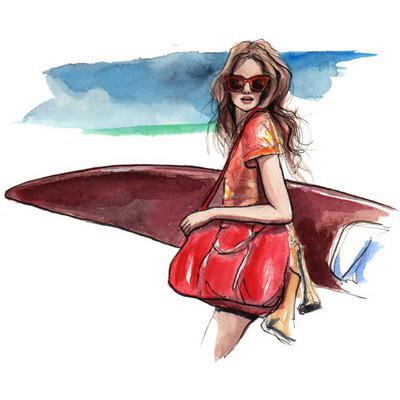 I'm here! Paradiso Perduto! Paradis Perdu! Lost Paradise...
My flight to Miami went smoother than my flight from Paris, which isn't saying much. A trip to my gynecologist after a drunken vacation would have been more pleasant than The CDG Catastrophe of 2011. After that mayhem, I'd say that I should have good travel karma for life. 
The only minor set-back was that I almost missed my flight because I was cut in the check-in line by a family who ended up having expired passports, animals without vaccinations and exceeded weight suitcases where the gate agent needed to find change for their 500 dollar bill. Talk about high maintenance passengers, putain. But again, after the CDG scandal, nothing phases me. With 15 minutes left, I ran to my 5:40am flight to Miami where the gate agent had my boarding pass waiting and I settled into my seat with a mimosa before take-off. Vacation has officially started. 
The flight from Miami to Nassau, Bahamas was on a little propeller plane that seats no more than 30 people. I hate those little piece of shit planes, I always feel like I'm going to die on them. It was swaying from left to right as we were taking off, they sat a gentleman next to me to even out the weight and there was light turbulence that felt like the end of the world. To make matters more 'colorful', a little British boy who sat behind me and reminded me of Veruca Salt kept announcing that we were going to crash, bloody death, we're going to crash. Awesome.
The flight was only 28 minutes and once we were airborne, the bumps were smoothed out and the ocean went from dark murky green to crystal seafoam as we were entering Caribbean waters. My vacation was becoming a reality before my eyes. 
I got through immigration without a hitch and took a cab straight to Paradise Island to the Ocean Club. I was escorted to my cousin's timeshare that has 2 bedrooms, full kitchen, living room with cable t.v, full bar and beachy touches like star fish and sea portraits. Perfect. I opened the screen door that opened to the terrace that over looks previously mentioned crystal blue ocean. After the past few months that I've had, a little time alone on the beach was exactly what I needed. I'd cook dinner, take walks, sleep on the beach and just disconnect from the world. The relaxation possibilities were endless. 
Waking up at 3am, I was wiped out and took a nap in the master bedroom and woke up to the sound of my grandpa singing in Italian. How sweet, I've missed my Grandpa. Wait what, my Grandpa!? It looks like my cousins had given my grandparents the timeshare as well. Thanks guys. So it is, Bahamas vacation with my grandparents. Allez-up!