I think my brain's getting old nowFrowns just like the bedside lampClamped on the side, ON my bedDreadful, flickers now and then, in time and lieu.
You flicker, my dear brain, cherie!Very, very flickery, indeed.
Wearied, it wants me to switch it offScoff for the nightMight be I go cringing insideHide in my quilt, I don't know.No, I don't know why I am so slowTherefore am I brain dead, as the physicians say in the show?Hello! I've actually seen the colossalUniversal volume named Grey's AnatomyLeaning on my mum's bookshelf, it's old.Hold right there, you deviate too, and 'grey' reminds meJeez, I have gray - no, white - hair, three or four.Ignored. Then the killer headache at quarter to fourSure, my brain's stopped responding anymore.Sore. Hey! It's the brain's own fault!It wontDrone on nine straight hoursHovers instead, beats me up every time, itSits me up in five hours, and if it's still dark;Hark, it takes that as a heads upBalls up in slumber for five more hours.Savors that it's twelve and too late to go on aboutHow a normal human being would, damn you're sour!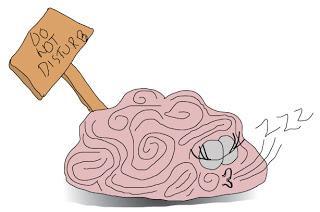 Image Source
You're rusty, my dear brain, cherie!Very, very rusty, indeed.
Heed, I'm awake right now, you beastAt least you could sleep for exact five hours, or sixFixed wake up at a normal shift;Pfft also so you can scribble away this shit !!!
Quit getting old, brain, my cherie!Very, very quick, indeed.