The wait is over. A Lost Legacy: Awakening is finally here. This Kickstarter funded novel is a debut writing effort for C.E Dimond the first volume in the Lost Legacies fantasy series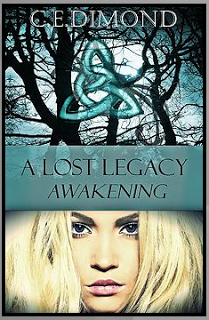 TITLE:

A Lost Legacy: Awakening
AUTHOR: C.E Dimond
PUBLISHER: Write Addictions
DATE OF PUBLICATION: July 30th2015
RETAIL PRICE: $19.95 CDN (Paperback)
ISBN-13: 978-0-9938701-0-1
PAGES: 274
*This title is available for online purchase and retailer order through Ingram Content Inc. in 6x9 Paperback format. It is also available through Amazon distribution and in epub and mobi ebook versions through other popular online distributors.
JUV000000   Juvenile Fiction : General
JUV037000   Juvenile Fiction : Fantasy & Magic
JUV058000   Juvenile Fiction : Paranormal
Young Adult Novel: Urban Fantasy Fiction
Grade Recommendation:  7- 12
Age Group: 13 – 18+

Finn Adams thought she knew what her life had in store for her; a mundane existence of day to day life. After meeting Eamon her whole world is flipped upside down. When her mother goes missing, Finn soon discovers that she is a witch and she is being hunted for her power. Ripped from the only life she's ever known, Finn is transported across the country to Broadhaven, Maine to discover the secrets she never knew about herself, her heritage, and the tremendous power she's kept hidden for so long. Her loyalties are tested when she learns of her true parentage and discovers she is part of a prophecy, destined to awaken an ancient power that has been lost for centuries. As she struggles to learn from her mother's past, she is faced with the ultimate struggle of good and evil, family or friends. She must learn who she can trust and find the power within herself to stop the prophecy from coming true.



AVAILABLE IN PAPERBACK OR KOBO, KINDLE, NOOK etc. 
BUY NOW