Internships are prerequisites for jobs in India today. Whether you attribute this trend to increase in competitiveness or blame it on overpopulation, internships have entrenched themselves as precursors to jobs in every field today.
Medicine, law, journalism, IT and in fact every private sector job opening requires the completion of one or more internships before the offer of a job comes your way.
I know this because I interned at two national newspapers, two magazines, a regional television news channel, a web news channel and a Public Relations agency before landing my first job. That's seven internships in five years of my under-graduate and post-graduate studies.
Of the seven internships listed above, I had a disappointing experience at only one. And this too was only because my potential wasn't fully realized due to mismanagement and faulty delegation of authority. This account may sound one sided but it is diluted by the fact that I received recommendations by every other place I went to. You see, that's why I actually have a job as a journalist today.
Bad experiences are part of internships but one has to learn not to overreact to them in the spectacular way that this person has, whose note to his/her boss speaks of unmitigated hatred and revenge for unrealized potential.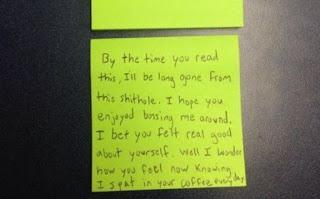 Image Courtesy: youthconnect.in
Read about why you shouldn't overreact to your Boss and just suck it up or quit the internship instead of making a mistake that jeopardizes your career in the field. The entire opinion piece is here on the Youth Connect magazine: [
He reacted to his bad internship in the worst way possible. Here is why it is better to suck it up
]