I really was SO excited to try this Rose Otto Facial serum by Dr Organic.  I mean, REALLY.  This has been on my wishlist for a while.  After being a fan of the Neal's Yard Rose facial oil, I knew what great benefits rose oil has on the skin.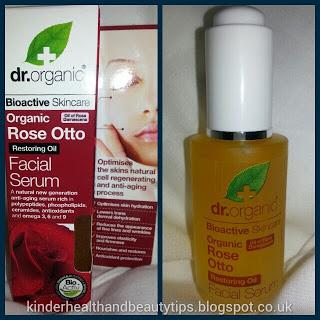 This is perfect for anyone looking for an organic approach to skincare.  For anyone who doesn't know, rose oil is a miracle oil for our face - it is anti-ageing, smoothes lines and wrinkles, acts like collagen and plumps out your skin and improves elasticity, restoring it back to looking revitalised and giving you that radiant 'glow'....I could go on, the benefits are endless!
Dr Organic say..."

A gentle, light textured skincare facial oil formulated with Organic Rose Otto Oil, Rosehip Oil, Argan Oil, Sweet Almond Oil, Passionflower Seed Oil, Soya Bean, Sunflower Seed Oil, Cotton Seed Oil, Rice Bran Oil, Meadowfarm Seed Oil, Jojoba Oil, Arnice Oil, Calendula, Vitamin C, Vitamin E plus Geranium and Clove Essential Oils. It absorbs quickly into the epidermal cell matrix to instantly lock in moisture whilst using its powerful transdermal properties to permeate deeply, helping to renew elasticity, restore skin integrity and leave a soft, toned feeling. Its precious, richly nourishing and balancing ingredients guard against fine lines and wrinkles. It helps lock in extra hydration and leaves skin smooth and supple.

"
This facial serum contains both Rose Otto oil and Rosehip oil.  It comes in a 30mls glass bottle with a very handy dropper pump as part of the screw-top lid - makes application SO easy.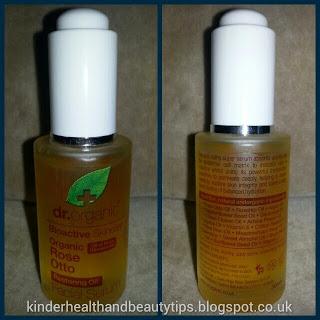 The consistency of the serum is oily in a very light kind of way, and is non-greasy.  It also like it claims,  absorbs quickly.  It smells GORGEOUSLY of roses! If you are a fan of the rose smell, you will LOVE this!
This is DEFINITLEY a good product to use before bed for an intensive restoration of the skin overnight.
You can also apply it in the mornings too, which I did on the days I wasn't wearing makeup.
I apply this after cleansing my face and applying my moisturiser as the last step in my skin routine, allowing it to work it's magic whilst I sleep.  I always wake up after having used it with gorgeously soft, glow-y skin which remains like that for the rest of the day!
To apply it to your face, you press the screw-top lid's dropper mechanism to suction up some of the product,  then press it again onto your finger tips to get a few drops.  Then rub your finger tips together and smooth all over your face avoiding the eye area.  I don't need a full pump of the dropper for each application - a little goes a LONG way, I use about a 1 pence amount.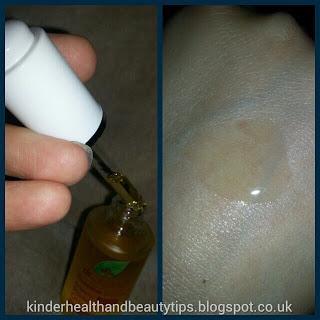 After using this Rose Otto Facial serum for a couple of weeks, my skin appearance definitely has improved, looking youthful and I have definitely noticed the smile lines around my mouth have plumped out somewhat!  This didn't break me out at all either, even though it has many oils, so I would say it's safe to use on blemish-prone skin.
I have to say I'm REALLY impressed with this product,  although I'm not really surprised,  as Dr Organic really have got SO many great products which I love already!
This is a part of my daily skin routine, and I really couldn't live without it now!  My new favorite skin product, this is possibly the best investment you could buy for your skin - containing no harsh chemicals, and being all natural and containing organic ingredients.  At a price of £12.99 for 30mls of all natural, organic ingredients,  this is a steal!  Especially compared to the other oils on the market.
I would DEFINITLEY recommend this product and give it top marks 11/10! ♥  You can find this facial serum at your local Holland & Barrett's store, or online Dr Organic's website.
You can also connect with Dr Organic via their Facebook and Twitter.
Have you tried any of the product's from the rose Otto range yet?