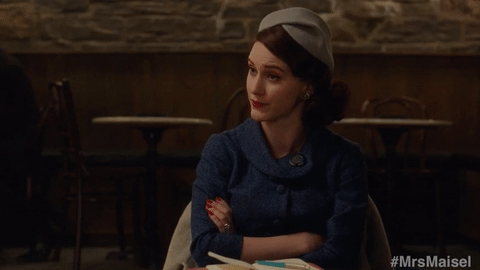 Today much of the world is facing the challenging task of the post-holiday return to "normal."
It's a jarring transition to say the least, but I'm here to help...and remind you that we are just days away from the 2019 Golden Globes, providing the perfect distraction from your return to routine.
This being the final What to Watch Wednesday before the big day, I could point you in the direction of the incredible nominees, which have been mentioned a time or two on this blog, like " The Marvelous Mrs. Maisel" or " Killing Eve."
I could also give a shoutout to "Murphy Brown" which has had quite the triumphant (and timely) return this season.
Or, option three, I could tell you what all three of these shows have in common.
In truth, it's a few things, the first being rather obvious - They have female leads.
But their commonalities go much deeper than that, right down to their origins, e.g. they were created by women.
Yes, these incredible stories about women were actually conceived and created by women (Amy Sherman-Palladino, Phoebe Waller-Bridge, and Diane English, respectively).
It sounds like a no-brainer, one of the first things all writers learn is to, "write what you know." Yet, many female-led stories are not written by women.
And, look, I know that the imagination can be a powerful tool when crafting a tale and some incredible female characters have been created by people who were not female.
But even the greatest of imaginations has its limits. Experience is, they say, the teacher of all things. So, as we embark on a new year, here's to more women (and everyone else who has a story to tell) telling their own stories.
...bi-daily smile...