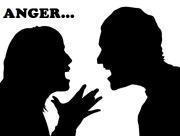 Once I capture your mind, there is hardly anything that could come in between us. I empower almost any entity existing around you and compel you to do the unprecedented. It's better that you recognize me by now else I won't deter showing my anger, because I am not but Anger myself.
I am there in your heart when you see something going around, but it depends whether you utilize me to help the affected ones get the justice at that time or merely become a silent spectator.  I have all the rights to make you the real culprit behind a crime or could tempt you to participate actively in a crime among your fellow felons.
My presence makes others fell on their knees and plead to you for mercy but am stubborn and make you the same as well. I don't let you listen to any of the lacerating awes or have a sight of tears that could have torn apart the hearts of others, otherwise. It won't be wrong if you blame me behind your going mad beyond heights. I can force you to play the blood games with your own dear ones and at times, am too good to make a mockery of your relations. Just a single word I force you to utter, and it is fair enough to segregate you from the whole world.
You can though use me for good reasons, but thanks to your corrupted minds that you seldom try me for noble deeds. However, there are always a bunch of people in every part of the world, who possess the courage to bring about a revolution. Such species of homo sapiens know my best utilization, as they lay the foundation of the much desired change; and at times, ignite the change. But these people are few, since the rest of all others are my slave.
I would be interested to know your status regarding me at present. Are you too my slave by birth or prefer making me to obey your orders to the contrary? I won't mind if you prefer the last option, but yet again, I am afraid, if you really prefer that option. It is so easy to express me without reason but it is equally hard to express me for a truthful cause. I am faithful to me, but still, would like to give you a tip..Have a glass of water or simply, lie down on the bed whenever you think I am about to dominate over your senses.